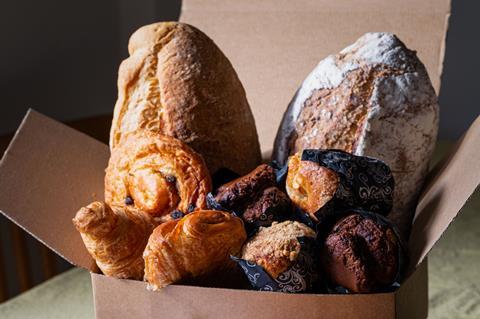 The Artisan Bakery has unveiled a Family Bread Box in response to "overwhelming demand".
The move to launch standard and plant-based boxes, which are being sold for £30, was inspired after the company saw requests for home-delivered baked goods "grow by 200% since lockdown", according to Andrew Murray, CEO of the west London-based business.
The regular box contains two sourdough loaves, white and multigrain, and a selection of traditional pastries and muffins made using free-range eggs and French butter. The plant-based box includes the same sourdough loaves, alongside plant-based pastries and muffins made using a mix of English rapeseed oil and palm oil from sustainable sources.
Instructions on freezing and refreshing are also included in the boxes, which are packed in compostable wrapping and delivered on a weekly or bi-weekly basis, the bakery said.
Murray said demand had been partly driven by people having less time on their hands.
"Because our breads and pastries are all handmade, the same love and care goes into creating them as home baking, but they obviously taste a lot better," he added. "Our customers can also feel good about using fewer deliveries or trips in their car, by buying weekly."
Earlier this year, the bakery changed its customer base from mainly supplying cafes and restaurants to direct-to-consumer sales as a result of the Covid-19 pandemic, and rolled out eco-friendly packaging for its consumer-facing range.