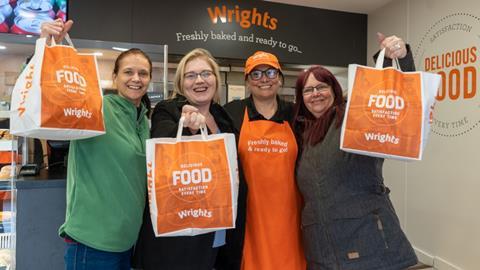 Wrights Food Group has teamed up with food surplus app Too Good To Go in a move which has helped reduce food waste to less than 1% in its high street stores.
The company's 15 shops have signed up to the app which allows customers searching for nearby businesses to purchase a 'Magic Bag' containing a mix of goods to be collected at an allotted time. Wrights Magic Bags contain various baked goods including sweet treats and cakes and have a retail value of £12.50 but sell for £4.50, the business said.
Since launching the initiative in April, food waste from Wrights' stores have been reduced from 5% to less than 1%, it added.
"Minimising food waste and recycling where possible is really important to our business and the 'Too Good to Go' app provides a way to make sure the products which don't sell during core trading hours can still be found a good home rather than being wasted," said Wrights' retail multi-site operations manager Julie Brereton.
Bakeries and coffee shops are popular on Too Good To Go with large and small businesses across the UK signed up. Last year, wholesaler Bako secured a deal with the app which provided free sign-up for all its customers.
"We're delighted to have welcomed Wrights into our growing community of over 20,000 partner stores," added Too Good to Go managing director Pas Loucaides. "This collaboration will mean that their delicious, freshly baked food will be eaten rather than wasted, and I know our app users in Stoke-on-Trent are going to love their rescued treats.
"Saving food is one of the most effective things we can do to combat climate change and I can't wait to see the impact we're going to make together."
Loucaides recently joined a British Baker webinar panel to discuss 'How to make your craft bakery more sustainable'. You can watch the webinar for free here.