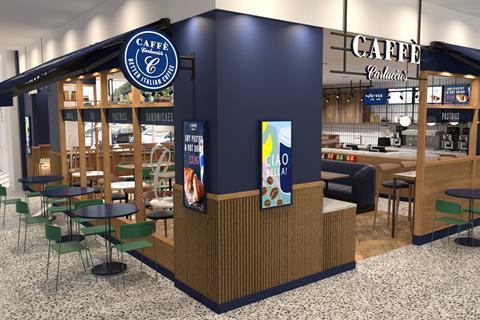 Italian restaurant chain Carluccio's has thrown down the gauntlet to UK coffee shop giants by unveiling the first of 500 Caffè Carluccio's sites it intends to roll out over the next five years.
Owner Boparan Restaurant Group (BRG) – which paid £3.4m in its deal to acquire the Italian restaurant chain last year – opened its first coffee shop in the Sainsbury's St Albans store last week.
The new site serves up an all-day breakfast and light-bite menu including hot ciabatta rolls, toasted panettone, and mozzarella, taleggio and provolone cheese toasties. It also sells Carluccio's retail products including biscuits, such as biscotti and cantucci, as well as gianduiotti chocolates.
The move represents a partnership with the retailer which encompasses three new in-store concepts. The second site, due to open in the Sainsbury's Leamington Spa superstore this month, will take the form of Carluccio's Counter – a hot-and-cold deli which will serve dishes including ready-to-eat pizzas and pastas. The third called The Restaurant Hub will debut next month in the Sainsbury's Selly Oak site and will feature BRG restaurants including Caffè Carluccio's, GBK, Slim Chickens, Harry Ramsdens and Ed's Easy Diner.
Caffè Carluccio's is also destined to appear in travel hubs, city centres and neighbourhood locations across the UK as BPG said it has a view to "creating a genuine challenger brand to some of the nation's biggest high street coffee brands".
"We acquired Carluccio's in May 2020 and are rebuilding the much-loved brand by evolving the concept whilst adhering to its authentic Italian routes," said Satnam Leihal, managing director of the Boparan Restaurant Group.
"Our customers tell us they want Carluccio's to be part of their everyday and as such we are delivering a multi-channel and multi-format strategy for the brand. With Caffé Carluccio's offering two blends of the best quality Italian coffee, alongside an accessible all-day menu with sandwiches made fresh daily, we are elevating what a coffee shop in the UK can be."
The Carluccio's brand, which is known for its freshly prepared Italian food and artisanal range, was founded in 1999 by the late Antonio Carluccio.
Where would Caffè Carluccio's fall in the coffee shop hierarchy?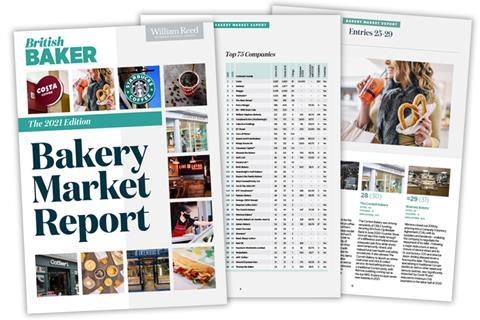 If Caffè Carluccio's opens 500 sites it would be larger than Pret A Manger which, according to British Baker's Bakery Market Report 2021, had 389 stores as of the start of this year. However, Pret has recently embarked on a transformation plan which has seen it partner with Tesco to pilot concessions, open trial sites with forecourt operator MFG and launch click & collect in its Manchester stores.
The next closest coffee shop chain, by number of sites, is The Nero Group which had 790. Costa continues to lead the charge with 2,681 shops in the UK while Starbucks had 1,025 as of September 2020.
For more information on how the biggest players in the bakery and coffee shop out of home scene stack up, download the Bakery Market Report 2021 for free.