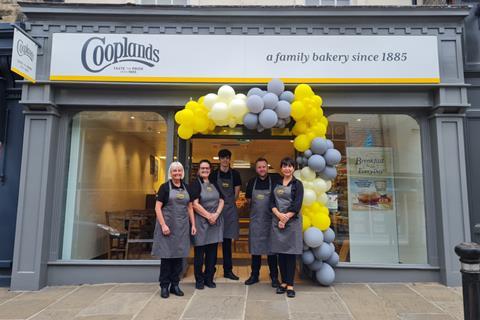 Bakery chain Cooplands has been bought by independent forecourt operator EG Group for an undisclosed sum.
Founded in 1885 by Frederick and Alice Coopland, the bakery business, which is headquartered in Scarborough and until now was family-owned, operates around 180 stores and cafes in its northern heartland. As a vertically integrated company, it also runs three production sites in Scarborough, Durham, and Hull which make a wide range of baked goods and deliver them to its shops daily.
The acquisition of CS Food Group Holdings Limited, which trades as Cooplands, will accelerate EG Group's diversification into foodservice, it said, and adds 'highly complementary assets' that will drive development opportunities in other parts of the business. The business plans to invest in Cooplands' brand and fresh food offer, it added.
Cooplands hasn't been short of investment in recent years having received £8.5m from growth capital investor BGF in 2017 followed by a further £7.7m in December 2020.
The move also allows for the diversification of Cooplands into the petrol forecourt and convenience store channels, EG Group said, which will operate alongside the bakery chain's traditional store formats. Prior to the acquisition, Cooplands had been venturing into new formats with a concept called Eats & Seats, as well as concessions in Tesco stores in Hartlepool, Stockton-on-Tees, and Lincoln and a partnership with Scarborough-based independent supermarket Proudfoot.
All of this is part of an ambitious strategy which aimed to double the size of business, in terms of shop numbers and turnover, in the next five years.
Broaden Cooplands' reach
Cooplands CEO Belinda Youngs, who joined the business in late 2019, said she was "looking forward to a great future" for the brand and taking its "long history of skills and expertise in the bakery industry in both manufacturing and retail" to EG Group.
"Cooplands has a proven track record in the fresh bakery sector and vertical integration with EG Group will help to further drive our success in foodservice, where we continue to see strong growth opportunities in the UK and globally," said EG Group founders and co-CEOs Zuber and Mohsin Issa.
"The transaction will broaden the reach of Cooplands beyond the brand's northern heartlands and bring its much-loved food to more existing and new customers through EG Group's unparalleled network of roadside forecourts and retail convenience stores. We know that Cooplands' impressive bakery platform and our food service expertise will be a winning combination."
In May this year EG Group acquired 'naturally fast food' restaurant chain Leon. The business said Leon, along with Cooplands, will complement its foodservice portfolio which includes third-party brands such as Starbucks, KFC, and Subway.
The forecourt operator also struck a deal with global bakery chain Cinnabon which will see it open 150 stores in the UK over the next five years with dough produced from scratch at a new centre kitchen in Frontier Park in Blackburn.