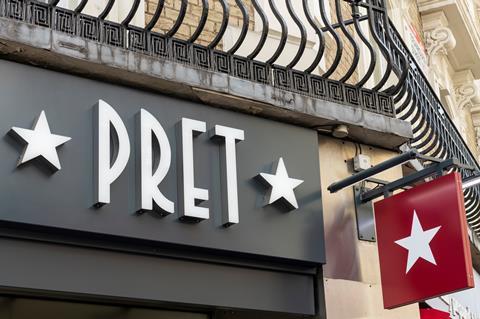 Pret A Manger is looking to extend its presence in regional towns, with plans for 100 franchise shops along with 100 openings of company-owned stores.
The sandwich chain is shifting its focus beyond major cities in response to changing consumer habits as a result of the Covid-19 pandemic, with commuter trade taking a hit as large numbers of people continue to work from home.
The company has noted an uptick in business at some of its shops in regional towns and has entered into talks with possible franchise partners to increase its presence outside of London and other large UK cities.
"Over the past few years, we've seen there's a real demand from customers in different parts of the country for our freshly prepared food and organic coffee," a company spokesperson said. "In some areas, such as regional towns and parts of northern England, our shops are busier than they have ever been.
"We're looking to establish new partnerships with franchise partners to bring Pret to more people in towns and travel hubs across the UK, and we're also looking at where we can open more shops which we run directly," the spokesperson added.
The openings are expected to take place over the next two to three years.
The latest plans form part of the company's strategy to bring 'Pret to more people'. In May, the food-to-go giant announced the piloting of four new shops in Tesco stores, as well as outlets in petrol stations owned by Motor Fuel Group.
The transformation plan has been devised in response to a downturn in trade as a result of the pandemic, which saw Pret cut more than 3,500 jobs and permanently close 39 shops across the UK. Earlier in the year, the company's annual accounts warned of 'material uncertainties' that could 'cast significant doubt' over its ability to continue as a going concern.