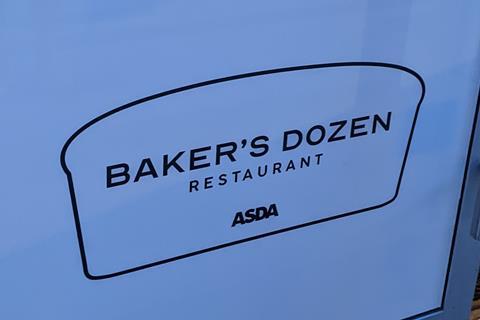 Life as a bakery journalist is tough. "Can we send you doughnuts?" and "Would you like some free pies?" are not infrequent emails in my inbox.
Nevertheless, I was particularly excited to receive one asking if I'd like to munch my way through a 13-course tasting menu made entirely of bread.
It was a PR stunt by Asda to celebrate the roll out of 200 new or improved products in its bakery range. Thirteen products were selected for the menu at Baker's Dozen – a hip London restaurant temporarily rebranded by the retailer – as it looked to showcase the versatility of the loaves beyond slathering them with butter (although the first course was exactly that, albeit with fancy butter).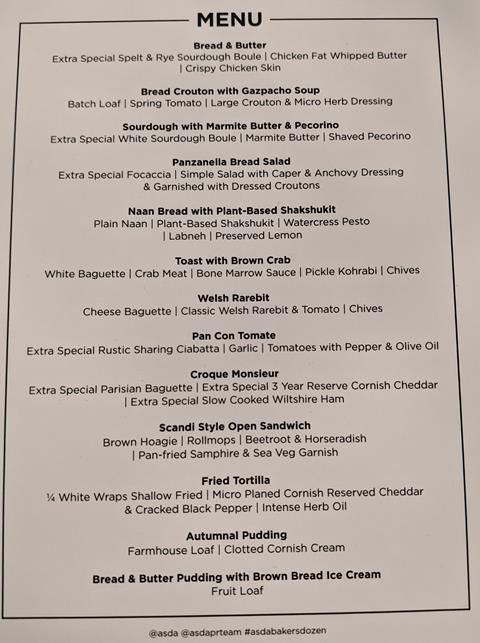 The simplicity of it shone through as a slice of the Extra Special Spelt & Rye Sourdough Boule was served up with chicken fat whipped butter and crispy chicken skin. The loaf, Asda noted, is made with only three ingredients – flour, water, and salt. The dough is fermented for 10 hours followed by a one hour prove before being hand cut and baked in a stone bed oven.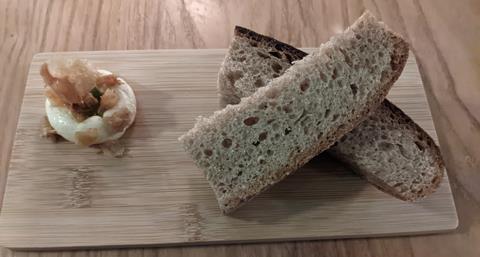 Next up was the bread crouton with gazpacho soup. As a die-hard Red Dwarf fan, I had to resist the urge to send it back for being cold (if you know, you know). Either way it was delicious.
Another highlight was the Extra Special White Sourdough Boule with Marmite butter and pecorino. Again, the loaf has just three ingredients and is hand rolled before being baked in a stone bed oven.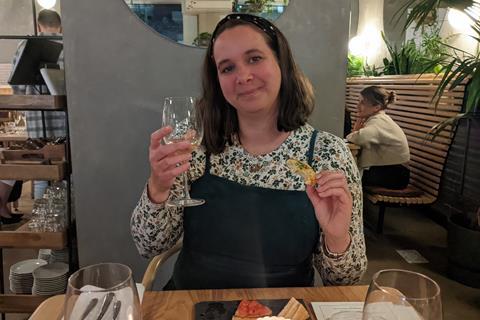 Fast forward through several more courses and I was presented with a trio of toast featuring a Croque Monsieur, Welsh Rarebit and Pan Con Tomate. The hero ingredients, respectively, were the Extra Special Parisian Pave made with pre-fermented starter dough, a Cheese Baguette and Extra Special Rustic Ciabatta created using an 'Italian slow fermentation technique' which means the dough is fermented for 18 hours before being baked.
Each course was dutifully paired with a glug of wine as the team at Asda looked to highlight the potential for bread beyond a meal accompaniment. It reminded me of something a baker once told me: "Bread is not a napkin for all the stuff you want to put on it."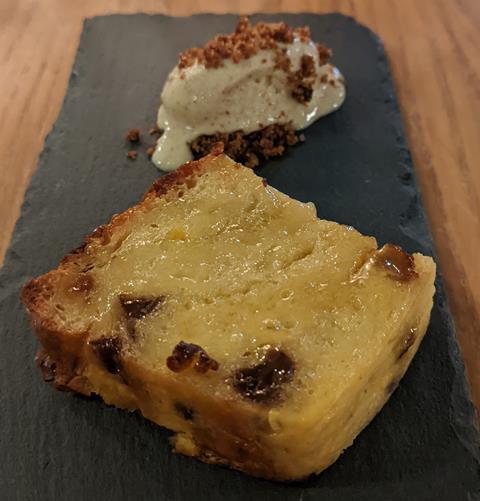 As we neared the end, the words of Asda's innovation chef Jonathan Moore, who kicked off the evening, became more pertinent. "Power through," he said. I'm glad I did because the final course, paired with a glass of port, was one of my favourites. The bread & butter pudding made from Asda's fruit loaf served with brown bread ice cream was superb. It was rich, slightly spiced, and comforting. Honestly, I'd have eaten a bowlful if my stomach hadn't reached maximum capacity thanks to the previous 12 courses.
Overall, it was a thoroughly enjoyable evening, and the passion and enthusiasm from the team at Asda shone through. It also proved to be surprising (who knew I liked crab?) and provided much food for thought (why isn't all butter flavoured with chicken fat?)