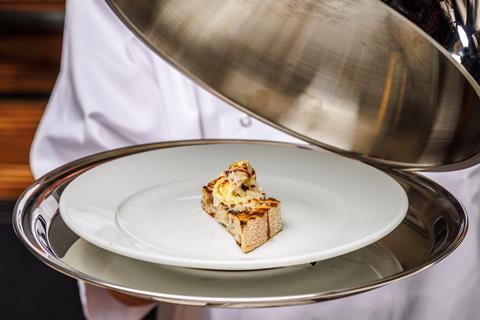 A tasting menu comprising 13 dishes made with bread is being offered for one night only at a London restaurant.
The Bakers Dozen pop-up restaurant opens on 19 October and will serve dishes including dark spelt and rye sourdough with chicken fat whipped butter, toast three ways and a brown bread ice cream.
The event has been created to mark the relaunch of Asda's bakery range, which will see the roll-out of 200 new or improved products, and all the breads used in the menu are from the retailer's line-up.
Asda said highlights of the relaunch include an Extra Special sourdough made from a 10-year-old starter, Triple Chocolate and Jaffa Orange Donuts, and a new range of Extra Special Viennoisserie.
Research by the retailer found that nearly a quarter (24%) of Brits have enjoyed bread baskets more than their main courses at restaurants, and that 52% tuck into bread before a meal.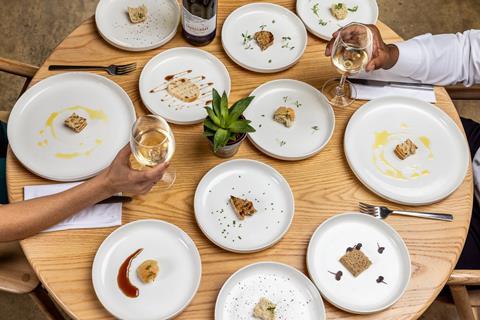 The tasting menu will be prepared and plated "with fine dining finesse" by Asda executive chef Jonathan Moore and his team, with Asda Extra Special wine selected for each dish.
"We're excited to open the doors to Baker's Dozen and shine a light on the quality and versatility of the new Asda bakery range," explained Asda bakery senior director Ian McEvans. "Our bespoke menu makes bread the hero of each delectable dish."
Consumers can enter a ballot for the chance to secure a place at the pop-up by visiting Asda.com/bakers-dozen
The Baker's Dozen tasting menu comprises:
Bread & Butter - dark sourdough spelt and rye, chicken fat whipped butter, crispy chicken skin
Bread Crouton with Gazpacho Soup - white batch loaf, brunoises, large crouton & micro herb
Sourdough with Marmite Butter and Pecorino - white sourdough, shaved pecorino
Panzanella Bread Salad - focaccia, simple salad garnished dressed croutons
Naan Bread with Shakshukit - naan bread, beef & lamb shakshukit
Toast with Brown Crab - white baguette, crab meat, bone marrow sauce, pickle kohrabi, chives
Welsh Rarebit - cheese baguette, classic welsh rarebit & tomato, chive
Pan Con Tomate - toasted rustic ciabatta sharing loaf, garlic and tomatoes with pepper and olive oil
Croque Monsieur - Parisian-style white baguette, Extra Special 3 Year Reserve Cornish Cheddar, Extra Special Slow Cooked Wiltshire Ham
Scandi Style Open Sandwich - brown hoagie, rollmops, beetroot & horseradish, pan-fried samphire & sea veg garnish
Fried Tortilla - ¼ wraps shallowed fried, micro planed Cornish Reserved Cheddar & Cracked Black Pepper, intense herb oil
Autumnal Pudding - white farmhouse loaf, clotted cornish cream, red fruits
Bread & Butter Pudding with Brown Bread Ice Cream - fruit batch loaf