From cases to cartons and bags to baskets, packaging has always been an essential element of commercial baking.
However, it's fair to say that it's never been more important for bakers to review how they're wrapping, packing and bagging their products.
No doubt you've already heard the compelling scientific and moral arguments for eliminating our everyday reliance on eco-unfriendly plastics. Suffice to say that any packaging choices bakery businesses make in 2021 should be within the context of their effect on the environment.
While this is hardly controversial, the challenging conditions of the last 18 months have left many in the bakery industry primarily concerned with economy rather than ecology. With livelihoods in the balance and lost ground to make up as the UK emerges from pandemic restrictions, some bakery businesses might rationalise that they have more important things to worry about than saving the world.
But irony aside, they simply don't – and not just because of the obvious reason. Protecting the environment makes sense for business as well as the planet.
For example, sustainability is a growing factor in consumer choices. In April 2021, a Deloitte survey of 2,000 UK adults found consumer behaviour is being driven by three priorities: waste reduction, reducing their carbon footprint and a desire to adopt more circular practices, such as buying products in sustainable packaging. The study also revealed that 61% of respondents had limited their use of single-use plastic in the last year.
Forthcoming legislation
There's another factor coming into play that suggests investing in sustainability now will make sound economic sense for the future: regulation.
The government is reaching for various carrots and sticks to drive down unsustainable packaging, and among them are proposals on Extended Producer Responsibility (EPR).
The second consultation on these plans, drawn up by the Department of Agriculture, Environment and Rural Affairs (Defra), closed on 4 June 2021 and if approved, EPR could have a profound impact on the bakery industry.
In a nutshell, the proposals seek to encourage the use of sustainable packaging by ensuring producers foot the bill for the net cost of managing the material once it becomes waste.
According to Dick Searle, CEO of the Packaging Federation, EPR would result in a 'tenfold to twentyfold increase' in business compliance costs, depending on materials used.
The measures also involve the shifting of responsibility for littering. "There is a proposal that for commonly littered items, which will include foodservice items, producers will be responsible for all litter costs for packaging," Searle explains.
"That includes provision of bins, emptying of bins, dealing with the contents of bins and litter clean-up costs. The conservative estimate of the cost of that is around £200m a year, but our view is that it will be substantially greater than that."
Plenty of bakery products require protection to ensure shelf life, with long life bread packaging an example
So, what constitutes a 'producer'? At present that's somewhat of a grey area. Searle says it is "quite correct" to assume that the responsibility will fall on bakery manufacturers, but the Packaging Federation is arguing that the point of obligation should be retailers – including, it seems, retail bakeries, which would hardly soften the blow to the wider industry.
Andrew Grimbaldeston, commercial director at packaging firm Colpac, acknowledges that EPR will "greatly impact the market" and says the company has responded to the Defra consultation, along with others on sustainability. "This was a big commitment and cost, but it is important to add our voice to the concerns of the industry," he adds.
Another potentially costly legislative curveball is the Plastic Packaging Tax that will come into effect from April 2022. This will apply to plastic packaging produced in or imported into the UK that does not contain at least 30% recycled plastic.
Some members of the packaging industry, such as Macpac, are confident their product offerings are future proofed against the legislation.
"This new tax will not affect packaging supplied by Macpac into the bakery industry as all packaging we supply contains a minimum of 80% recycled content, made up from both post-industrial waste and post-consumer waste, thus negating any tax bills on our packaging," explains Simon Firth, the company's UK sales manager.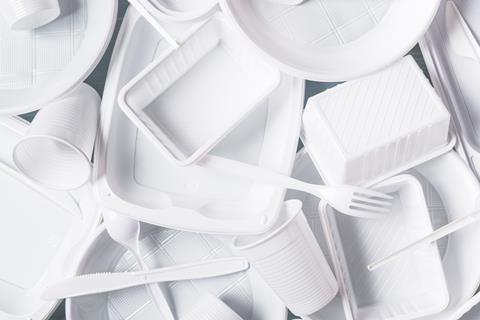 Ditching the plastic habit
While there are plenty of good reasons for doing the right thing, there are also barriers to ditching plastic. Firth observes that some products require a thermoformed pack to offer protection during transit as well as giving on-shelf presence and helping with shelf life.
"Therefore, plastic packaging is the only option for these types of products," he says. "However, it must be produced in a responsible material choice that has a significant recycled content and allows for it to be recycled."
Industry obstacles
In many current industry applications, however, using recycled plastic for packaging is not an option.
"Current regulations in the UK prevent the use of any mechanically recycled materials in food contact applications, except in the case of polyethylene terephthalate (PET), because this thermoplastic polymer is considered an effective and functional barrier to any potential contaminants and would not allow them to migrate to the food items," explains Veronica Ataya, director of marketing and innovation at St Johns Packaging.
Ataya observes that much of the packaging in baking is made of polythene (as is often the case for bread bags, for example) or polypropylene (frequently used for morning goods).
"Regulations do not allow for any mechanically recycled material to be incorporated into those films," Ataya explains. "The only available alternative is to use chemically recycled resins, which are very scarce, expensive, and unavailable at commercial scale."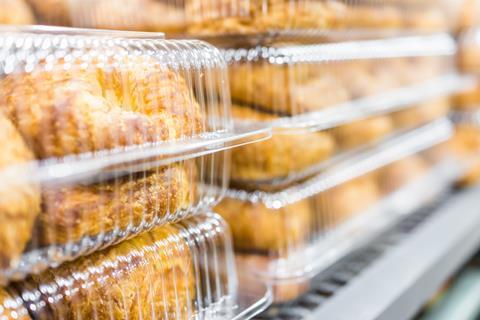 Potential for improvements
In the short term, Ataya concludes that unless regulatory bodies develop a protocol for testing and accepting mechanically recycled plastics in polythene and polypropylene, and until there is large commercial availability of chemically recycled resins, it will simply not be possible to achieve some of the sustainability goals that many brands have committed to, or to reach the minimum requirements in the upcoming Plastic Packaging Tax. In the wide spectrum of baking, however, there are plenty of wins to be had.
Bakery ingredients supplier Macphie, for example, says it cut three tonnes of plastic from bottles of its OTT dessert topping range by replacing a fully printed plastic sleeve with front and back labels.
What's more, many of the major packaging players are committed to helping bakery companies find the most sustainable solutions, regardless of obstacles they might face.
"Plenty of bakery products require protection to ensure shelf life, with long life bread packaging an example," says Elliot Chrisp, business unit manager for materials at Multivac. "It is very easy now to create widely recyclable solutions for these packs and Multivac has successfully done this with a few of their customers."
Grimbaldeston of Colpac sums up the can-do attitude evident across the industry at present. "We do not really see any barriers," he insists. "Recycled materials and circularity are both essential to our future and are increasingly available in ever higher percentages."