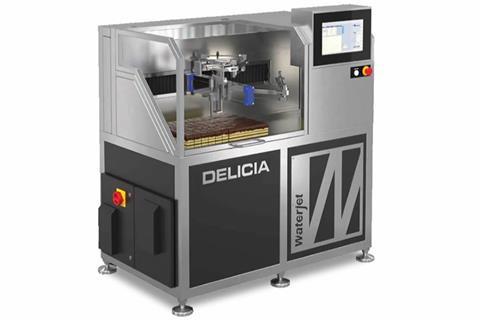 Brook Food has secured an exclusive deal with Italian manufacturer Waterjet to supply its cutting technology to the UK.
The Waterjet technology is new to the baking industry, said Brook, and offers an accurate and precise alternative to pastry and confectionery portioning. The machine uses high pressured and filtered water to cut though products.
The Somerset-based equipment supplier explained that Waterjet's USP over other cutting solutions is that, as well as straight-lines, it can portion sheets of products with curves and points. This allows products usually assembled in moulds or tins or cut with handheld cutters to be cut accurately, allowing product innovation and creativity.
Waterjet cutting operates at a speed of five meters a minute and is capable of cutting an 18" x 30" tray of product into more than 60 accurate and clean portions in less than two minutes.
The Chefjet range of Waterjet cutting systems can be used for cutting cake, pastry, fillings and creams as well as chocolate, toppings and decorations, portioning individual products from full trays or cake determined by a predefined profile.
After loading the carrier into the machine, the user can select a pre-programmed cutting profile from the touch-screen control panel.
The entry-level Delicia machine cuts a single tray of product and is manually loaded and unloaded, holding the product in its carrier during the cutting process.
Other machines in the range incorporate carrier-tray loading conveyor systems for faster processing or an in-line conveyor model for semi-industrial environments with no tray-carrier transfer.
Brook Food will be debuting the machines at the upcoming Foodex exhibition being held at the NEC, Birmingham, from 24 to 26 April.
Taking place alongside Foodex is the Farm Shop & Deli Show that will be hosting the Britain's Best Loaf competition on Tuesday 25 April.