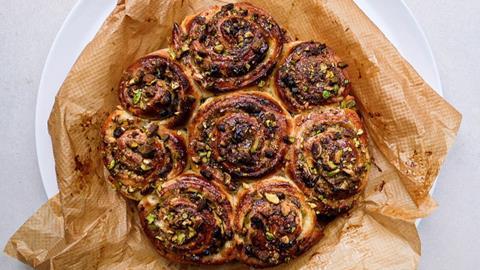 Cambridge-based Fitzbillies Bakery has won the Business category of the World Chelsea Bun Awards.
The second annual awards took place online because of the Covid-19 outbreak, with 56 entrants from around the world.
Judging was based on photographs of the buns, and judges included Michelin-star chef Phil Howard, owner of Elystan Street in Chelsea; Hélène Frost, chief executive of its chosen charity The Children's Surgery Foundation; and John Shepherd, owner of event organiser Partridges.
The winners were:
Adults and Supreme Champion: Alex Parker with Marmalade, Golden Raisin and Pistachio Chelsea Buns.
Businesses: Fitzbillies Bakery in Cambridge, with a Chelsea bun recipe going back 100 years.
Children (under 18): Angelique Bass, a five-year-old toddler model, who baked Chelsea buns with a Cherry on the Top with her mother.
Bonus Prize for a Standout Entry: Lisa Tan of Lisa Tan Millinery with vegan Chelsea buns, made without eggs, due to her supply running low.
"The winners in all groups should deliver buns that have proved and merged together, that look like they will ultimately be light to eat and have a great sticky glaze," said Howard.
Entrants were requested to make a donation to The Children's Surgery Foundation, helping support children undergoing treatment at Chelsea & Westminster Hospital.