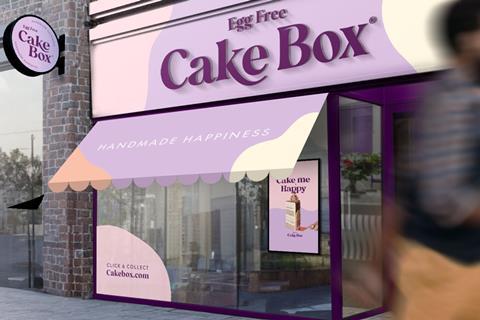 Revenues for egg-free cake specialist Cake Box have risen by 6.8% through the first half of the financial year, with benefits from recent investments beginning to emerge.
These include launching its new website in June, a new CRM system in May, and a £2m co-funded annual marketing budget agreed with franchisees. A new brand identity will be rolled out at franchises in the coming months.
Double-digit increases in profits, cash, and dividends were also reported in its unaudited half year results for the six months ended 30 September 2023, as raw material and input costs stabilised.
The figures showed a slight improvement on the expected totals posted in its trading update last month. Group revenues rose to £18.0m, up from £16.8m taken during the same period in 2022, while franchise store sales leapt 12.9% to £36.1m.
This was said to be driven by increased volumes from the 20 stores opened in the prior year and the nine new shops opened in the first half of the current year – entering new geographies such as Liverpool, Cambridge, and Cheadle. Its total estate stood at 214 franchises nationwide as of 30 September.
Trading momentum for franchise stores improved from the second half of the prior year to the first half of the current year, with like-for-like sales growth of 6.2%. Gross margins, meanwhile, increased to 49.6% compared to 47.7% in H1 2022/23 due to the partial easing of input costs and enhanced yield benefits achieved in its distribution centres. Its balance sheet remained strong with net cash rising by almost a half (41.8%) to £5.9m, with interim dividend up 10.5% to 2.9p per share.
Continued growth was also supported by new product innovation such as its mango range launched in the summer, and effective managing of cost pressures through established supplier relationships.
"We have performed well in the first half of the year, generating strong growth across key financial metrics and making further progress on our strategy," said Cake Box CEO Sukh Chamdal, revealing that the firm was engaging with property consultants to help reach its target of 400 stores in the medium term.
"We are also excited to launch our new Cake Box identity in the second half of the year, which will broaden the appeal of our brand to new customers and demographics, amplifying the opportunity for new store openings."
Chamdal revealed the business remained "mindful of the ongoing macro-economic uncertainty", but said customer demand remained robust, which demonstrated its enduring appeal. Total franchise sales in October were found to be 5.1% ahead of those from the same month in 2022, with online sales up by 12.8% versus last year.
"We enter the second half with momentum and are on track to deliver full year performance in line with market expectations. The Board remains confident in the Company's long-term prospects, underpinned by our ambitious growth strategy, the attractiveness of the brand and focused investment programme," Chamdal added.