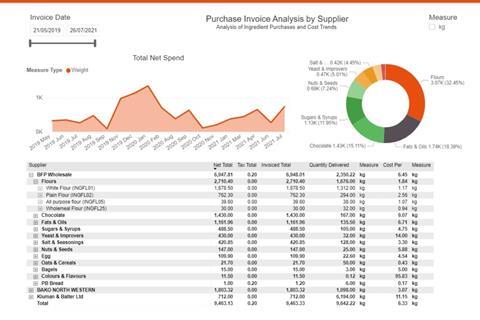 Bakery software solution Cybake has added new business intelligence (BI) reporting screens to its purchasing module to assist users when dealing with suppliers.
The new BI screens feature pie charts, bar charts and graphs designed to offer users a readily accessible view of their purchasing activities and KPIs.
With the latest additions to the cloud-based software, Cybake now displays an overview of a bakery's net purchasing spend by both supplier and ingredient. It also breaks down ingredient purchases and cost trends, with a view of the latest prices, the last time an ingredient was purchased, from which supplier, at what price and in which format.
In addition, Cybake now features a service-level report informing bakeries whether suppliers are fulfilling their orders, as well as purchase order analysis, within which the status and progress of all order can be queried.
According to Jane Tyler, managing director of Cybake, the new BI screens are the latest in a line of enhancements to the system.
"We first announced the addition of business intelligence reporting screens to Cybake back in August 2020," she said. "These showed our users how their bakery was performing in terms of sales, profit, and retail stock, and proved very popular. Retail bakery replenishment, sales and waste BI functions followed.
"With this latest announcement, a bakery's purchasing can now be tracked, analysed and represented in the same way, giving the upper hand to bakers every time when they are negotiating prices with their suppliers."