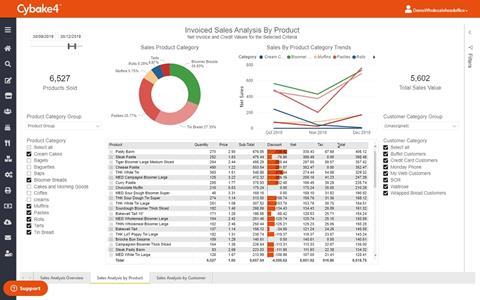 RedBlack Software has added three business intelligence (BI) modules to its Cybake bakery management system.
The modules analyse sales, profit and retail stock, respectively, which RedBlack said will give users a "clear, at-a-glance" picture of how their bakery is doing at any time. It also means Cybake is better informed allowing to make decisions more quickly and accurately, the firm added.
Analytics of the key performance indicators (KPIs) in all three new modules are represented by pie charts, bar charts and graphs, as opposed to numerical formats. This, RedBlack said, are far more easily seen and understood by colleagues across a bakery business.
Existing users of the system can deploy the new BI modules free of charge until 25 September 2020.
"By making full use of the cloud, we have now made it so that everyone across a bakery can easily see where they were, where they are up to, and where they need to go," said Jane Tyler, managing director of RedBlack Software and Cybake's creator.
"The volume of data that our new BI modules process, the speed with which they analyse that data and the amount of detail they drill down to, makes decision-making with Cybake quicker, more accurate and more informed."
Put broadly, the company said the BI modules better identify sales trends in both a bakery's customers and its products. They also avoid bakeries having to pull multiple reports into Excel spreadsheets or manually process the data and do their own calculations. As such, Cybake's new BI modules present all this data in just three graphical screens.
Here's a breakdown of the three new modules:
Invoiced Sales Analyser – this generates high-level sales trend reports for customers and products that can be interrogated down to individual transaction level. For example, it shows how much discount a bakery has been giving on each account; whether sales of product x are increasing; whether product y's are decreasing; and who is (or isn't) buying product z.
Sales Profit Analyser – this displays trend information and detailed margin data for invoiced sales from both product and customer perspectives. As an example, it shows whether certain lines are still profitable after customer discounts, or whether a bakery is staying on track on margins for every one of its products.
Stock Analyser – this module, specifically for retail bakeries, shows all retail stock transactions and unaccounted items, quickly identifying stock that is unaccounted for in a bakery business. It also provides reports on retail stock reconciliation by shop and by product. Plus, it reports on every waste transaction recorded by retail outlets for the last twelve weeks and, crucially, the reasons given for the waste.
The new modules comes just a month after RedBlack Software signed a partnership with artificial intelligence start-up CatsAi. The deal sees CatsAi technology incorporated into Cybake.