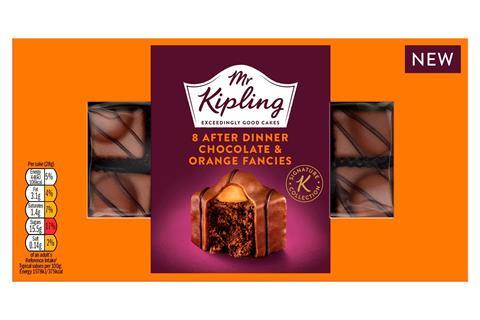 Mr Kipling sales have hit £150m for the first time in the brand's history, Premier Foods revealed in its preliminary full-year results.
The business reported revenue for its Sweet Treats division of £240.8m for the full 2020/21 financial year, representing an increase of 2.2% on 2019/20. This was driven by the branded segment, composed primarily of Mr Kipling and Cadbury cakes, which saw a 4.7% rise to £199.9m.
After a 'muted' start, both brands enjoyed a 'strong year of revenue growth' which in the case of Mr Kipling was aided by 25 weeks of TV advertising and increased sales of its reduced sugar slices, as well as expansion of its premium Signature collection. NPD in the form of Crunchie and Fudge cake bars proved beneficial for Cadbury cakes alongside 'robust' volumes of Mini Rolls being sold.
Premier plans to build on this success further with more TV ads for Mr Kipling and the launch of Choc Tarts.
While sales boomed, trading profit for Sweet Treats fell by 5.5% to £22.4m. The contribution, Premier Foods said, was impacted by incremental Covid-19 costs including increased temporary labour due to absences.
Looking at non-branded sweet treats, sales suffered due to contract exits for retailer brand cake and lower volumes in the discounter channel resulting in an 8.4% decline on the previous year.
It comes amid an "outstanding" year for the business, according to CEO Alex Whitehouse, who noted that Premier Foods is reinstating dividend payments for the first time in 13 years.
"Throughout the year, we continued to drive our branded growth model, launching a series of new product ranges… and increasing marketing investment with six of our major brands benefiting from TV advertising," Whitehouse said.
He added that branded online sales have more than doubled alongside a strong performance in overseas markets, which saw a 23% growth due to a change in strategy last year.
"As we look to the future, with a transformed business in a demonstrably much stronger financial position, we will continue to move forward at pace and with rigour, applying our brand-building skills to expand the business. We will do this through entering new categories in the UK, scaling up our overseas businesses and exploring the opportunity for appropriate bolt on acquisitions," he added.
Mr Kipling overseas
Mr Kipling is one of the brands being utilised by the overseas business. In January Premier Foods revealed it had signed an agreement to sell Mr Kipling cakes in the US, with the first shipments expected to commence in the first half of 2021/22 following the 'confirmation of a preferred lead customer'.
The brand's Signature range was launched in Ireland and supported with TV advertising offering what Premier described as 'the first examples of how the International business is applying the established and proven branded growth model from the UK to its overseas markets'.
Australia saw a similar approach; Mr Kipling aired on Australian TV in the fourth quarter and new product launches included Mr Kipling Chocolate & Cherry slices.