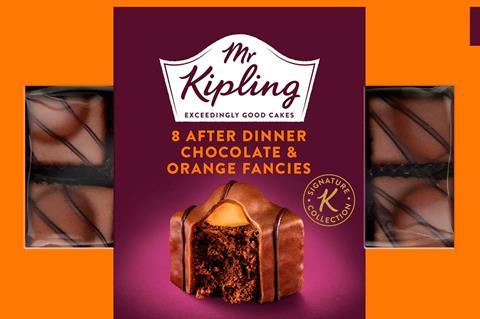 Mr Kipling sales continue to rise, with Premier Foods' Q1 trading update showing a 7.5% growth in revenue for the brand.
This builds on Mr Kipling's strong performance over the last 18 months, with Premier Foods' most recent full-year results revealing in May that sales for the brand had hit £150m for the first time in its history.
The parent company said the sales boost reflected further TV advertising, a strong performance from healthier product ranges such as 30% less sugar Angel Slices and new product launches under the premium Signature collection.
Overall, Q1 sales in Premier's Sweet Treats division increased 3.2% year-on-year in Q1. Cadbury cake slices were impacted by the earlier timing of Easter in prior years while lower margin non-branded sales declined due to prior year contract exits, the company added.
Total group sales for Q1 were up 6.3% versus two years ago, which Premier said was at the top end of its expectations, while braded sales were up 9.3%.
International business saw 'excellent progress' with sales up 2%, the company said. Mr Kipling Signature cakes delivered market share gains in Ireland, while the home baking category expanded further. The trial of Mr Kipling cakes in Canada delivered 'encouraging results', said Premier, with rollout to full national distribution planned in the second half of the year.
"With our continued strong trading momentum and the substantially lower coupon of the new fixed rate notes at 3.5%, we now expect to deliver adjusted profit before tax at the top end of our expectations for FY21/22," said Alex Whitehouse, chief executive officer of Premier Foods.