Bakery has seen its fair share of big transactions in recent months.
Fox's Biscuits was bought by a Ferrero-related company, CSM Bakery Solutions revealed it would be selling its ingredients business to an investment subsidiary of Investindustrial, and Addo Food Group was bought by PAI Partners.
Chief among these was the sale of 134-year-old bread brand Hovis, which was bought by private equity firm Endless – seeing off competition from Italian company Newlat Food in the process.
Not bad considering overall mergers & acquisitions (M&A) in the wider food and drink market have slowed in 2020. Research from business and financial advisor Grant Thornton UK LLP found that deal activity in Q3 of 2020 was significantly lower than in Q3 2019, with 34 deals crossing the line compared with 53. However, this was up from 27 deals in Q2 2020.
Notably, the research revealed, private equity (PE) and venture capital interest in food and drink remained resilient, accounting for nearly a third of the deals in Q3.
Considering two of the sales mentioned above – Hovis and Addo Food Group – were to private equity investors, it begs the question – what makes the bakery sector so attractive to PE? What benefits does this type of investment have? And, what could Endless' investment mean for Hovis?
Given the mature nature of the bakery market in the UK, with the exception of the gluten-free sector, growth opportunities are limited
"There's two elements," says Trefor Griffith, head of food and beverage at Grant Thornton. "One is growth – so businesses that are growing quickly. This is no different in bakery than anywhere else.
"The other end of the scale, which is driving a lot of the PE activity in the market, is around consolidation and taking costs out. That's largely more relevant where the businesses are in markets in ex-growth or low growth. Hovis would probably come into that bracket."
Operational turnarounds are the more likely reason for PE investments in bakery, adds Mark Lynch, partner at corporate finance advisor Oghma Partners.
"Given the mature nature of the bakery market in the UK, with the exception of the gluten-free sector, growth opportunities are limited," he says.
Lynch believes Aryzta is an "obvious candidate" for asset disposals following a "troubled few years". The business recently announced it had appointed Houlihan Lokey and Alantra as its financial advisors for asset disposals, which it said would allow it to simplify its business model by concentrating on core markets and core businesses.
It comes after management at the frozen bakery specialist said it was taking 'decisive action to maximise cash and reduce costs' as it reported an €18m net loss for the 2020 financial year.
Expertise incorporated
Ireland's Promise Gluten Free, which supplies free-from bread, rolls and cakes, sold its majority stake to PE firm Mayfair Equity Partners in 2017. At the time, founder Declan Gallagher said it would provide Promise with the ability to increase capacity in new and existing markets.
Another recent example of PE investment in bakery is Northern Ireland business Bertie's Bakery, which was launched by former Genesis Crafty boss Brian McErlain. It received a £1m investment and is operating from a 15,000 sq ft site just outside Magherafelt. In April 2020, McErlain told British Baker that Bertie's has the capacity to become a £15m business.
Lynch explains that besides providing financial resource, which should allow incremental capital expenditure or financing for bolt-on acquisitions or growth-related expansion in working capital, PE can also provide strategic guidance and operational skills.
"The latter are often provided by changing management or the private equity investor bringing in industry experts and consultants they've worked with previously," he adds.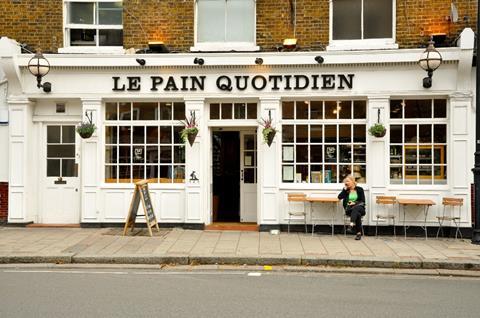 In June 2020 bakery and café chain Le Pain Quotidien was sold in a pre-pack deal to BrunchCo UK Limited – a subsidiary of BrunchCo 21 SA, a holding company majority owned by Belgian private equity investors M80.
According to a spokesperson for Le Pain Quotidien, BrunchCo UK has provided "clarity of vision and a long-term plan" to help revitalise the offer and provide growth.
"Le Pain Quotidien has become much more focused on being a bakery again rather than a restaurant," the spokesperson added. "We've completely renewed our bread, pastry and patisserie range, which has given strong results so far. Other core areas like our coffee offer and bakery layouts are giving encouraging results."
Hovis past and present
So, what could be in store for Hovis following its acquisition by Endless?
It has seen significant turnaround over the past four years, having refocused in 2018 to prioritise its core baking business and disposing of three mills in the process.
"The management team have done a great job of turning around a business which was losing money, and they've made good profits over the past few years," adds Griffith. "There's still a lot of operational focus that can be put on the business, not just growing the sales."
He added that Hovis was always likely to come to market as PE-owned businesses are sold within a three to seven-year window, when they need to return funds to the investors. It was previously owned by US PE investment firm Gores Group, which had a 51% stake, and Premier Foods, which had a 49% stake.
Endless' modus operandi is to take struggling businesses and drive significant improvement
'Significant investment' by Endless will support the existing management team to deliver its future plans, driving a strategy which focuses on great quality products, customer value and service, it said.
"Endless' modus operandi is to take struggling businesses and drive significant improvement," adds Lynch, citing incremental performance at BBF – which Endless acquired in 2015 – as an example.
"They may look to merge the business with the cake business Bright Blue, which should deliver synergies across head office, back office, purchasing and possibly sales and customers."
In the mid-term, notes Lynch, Hovis remains up against two "well-funded and well-invested competitors" in Warburtons and Allied Bakeries, so the challenge will be to improve its competitive position while holding on to any potential cost savings.