Change is inevitable, like death or taxes. That doesn't make it any easier to swallow, particularly if your business is responsible for the production and delivery of goods that can't simply be warehoused when the world gets turned upside down.
If Covid-19 has given us anything, it is change. So how has the baking industry adapted to the turmoil of 2020? And what will the longer-term impact of the pandemic be on the type of baked goods in demand and how, when and where people want to buy them?
"The past few months have been some of the most challenging that many business owners have ever faced," says Jacqui Passmore, marketing manager for the UK and Ireland at Dawn Foods.
Covid-19 has changed shopping behaviour in many ways. Online is booming, with research suggesting in August that 77% of Brits were shopping online for groceries, up from 61% in 2019 [Waitrose]. Unsurprisingly, supermarket visits were down, by a whopping two million in the week face masks became mandatory in July.
That most of us have been confined to our homes for much of 2020 has supersized sales of wrapped bread and other baked goods. More time at home means more toast, clearly. Value sales spiked by 17.8% in the four weeks to the announcement of lockdown [Kantar w/e 22 March]. Sales have remained elevated for the rest of the year, with Mintel predicting 5% volume growth on 2019.
"Amidst the continuing pandemic, bread's role as a household staple has been reaffirmed," says Sara Green, head of category & insight at Hovis, which is up 11.7% in value for the year to 5 September [Nielsen]. "At £4bn, bread and baked goods is one of the largest grocery categories, with 97% of UK households buying on a regular basis. Huge changes in our working and personal lives have seen sales increasing as more people eat at home."
Amidst the continuing pandemic, bread's role as a household staple has been reaffirmed
Not all baked goods have benefited, of course. Unit sales of products sold through in-store bakeries are down by 24.6% year on year [Nielsen Scantrack/Homescan 12 w/e 3 October 2020]. Research by Hovis indicates that this decline is primarily driven by fewer store visits and consumer concern about Covid contamination.
That's nothing compared to the damage wrought on foodservice. Like-for-like sales plunged by 57.6% in March [CGA] and, despite a slight recovery over the summer, the sector's future hangs in the balance. With 60% of out-of-home occasions featuring baked goods [Lumina Intelligence], many suppliers and high street bakers are also standing on a precipice.
In July, Finsbury Food Group warned that sales to foodservice and food to go had gone from a fifth of its revenues to 'almost nil overnight'. Two months later, Greggs said it was in talks with staff to cut hours to minimise job losses as it tried to adapt to the 'new normal' of near deserted high streets and local lockdowns. In November, it axed 820 jobs.
Still, most are upbeat. Bakers give their level of optimism about the future an average score of seven out of 10, according to Dawn Foods research. Ninety-four per cent are fully trading and a third say sales are up and although 54% have cut their ranges, 15% have increased the lines they offer. Passmore adds: "Although many have found business tough going, they have adapted to change and are relatively optimistic they will pull through."
Adapting to change
The need to adapt was particularly pressing for wholesalers serving the pub and restaurant trade.
"Within days of the announcement of the need to shut hospitality we lost our established wholesale business, and it became apparent our greatest asset would be retailing direct to the consumer," says Aidan Monks, co-founder of Cumbria-based Lovingly Artisan.
The bakery recently launched a web shop which offers nationwide delivery of its sourdough loaves. This has become increasingly common for artisan bakers as they look to reach a wider audience.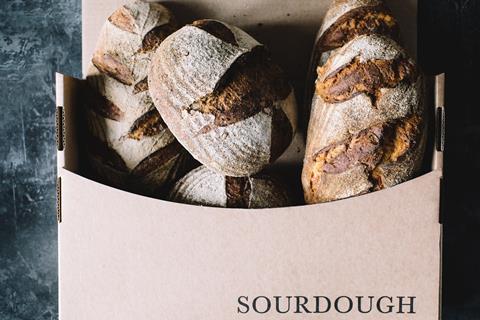 Other independents have been adapting at breakneck speed to keep up with these changes. "We have changed from a wholesale and retail bakery to a business with a much bigger emphasis on retail," says Sophie Kumar, co-owner of The Angel Bakery in Abergavenny.
"From March to August, 100% of retail sales were online. This has dropped to about 20% but fluctuates depending on restrictions. We set up a very basic online shop in less than a week and then worked on a much better version with more functionality over the following two months. "
Many more took leaps into the unknown as Britain went into lockdown. Warings Bakery, which operates six outlets in and around Reading, launched a home delivery service and website in just four days.
"The response was incredible," says owner Daniel Carr. "From 8pm on the evening the website launched to 6am the next day, we'd received 125 orders, worth approximately £18.50 each. As well as everyday bakery products, the home delivery boxes also included essentials such as milk and butter from local partners. Home delivery replaced lost income from food to go and turnover remained stable and even increased in some weeks."
Edinburgh's Twelve Triangles Bakery, which runs five outlets across the city, took a similar tack. "When we first went into lockdown, we shut two of our stores and moved roughly 70% of our turnover online," says co-owner Rachel Morgan.
"Online was entirely new territory for us. We set up the shop more or less overnight and learnt as we went. There was a lot of trial and error in finding time-effective solutions while maintaining a safe working environment for our staff."
It's not just independent players. "Covid-19 has given rise to a new delivery marketplace," Romy Miller, commercial director at Gail's Bakery, told British Baker in April. The business now offers click & collect through its website and home deliveries via Deliveroo. Greggs, which in January unveiled plans to roll out nationwide home delivery by the end of 2020, is now sending sausage rolls and steak bakes across most UK towns with Just Eat.
Unsurprisingly, online sales share tends to wax and wane with changes to lockdown restrictions. Nevertheless, some suggest the leap online by many will serve as a catalyst for further growth. "Our online store is in its infancy, and the sales figures still unknown," says Monks at Lovingly Artisan. "However, we think this could become a significant new direction for our business."
What shoppers are buying is also changing. "There's a new interest in provenance and ingredients," adds Monks, who switched to organic in lockdown. "Our tribe is interested in health and wellbeing. We're playing a part in that."
So is Hovis, says Green, pointing to the July launch of its 'immunity boosting' Glorious Grains and Fabulous Fibre loaves. "Hovis research shows 55% of consumers are interested in breads with added fibre for a healthy gut and 52% are interested in breads that support the immune system," she says.
Now more than ever.
How Allied coped with a bread boom
The big plant bread manufacturers faced an entirely different set of challenges to smaller retail bakeries and suppliers to pubs, restaurants and cafés when Britain went into lockdown.
The latter had their main route to market throttled overnight. The former saw sales explode, while having to make their factories safe for the hundreds that work there.
"Our teams worked around the clock to meet the unprecedented consumer demand for bread during lockdown," says a spokeswoman for Allied Bakeries. "At its peak, demand was up by 30%. Employees worked extra shifts and increased overtime."
Allied prioritised core ranges and paused production of specialist lines to increase efficiency. Many retailers, meanwhile, agreed to order full baskets rather than single items to speed up dispatches.
Keeping up with soaring demand was only part of the challenge. Ensuring Allied Bakeries' (and Allied Mills') 4,000 staff were safe and preventing the spread of the virus in its facilities were also priorities.
"There was significant operational change across all the businesses," says the spokeswoman.
"We installed Perspex screens where two-metre social distancing couldn't be guaranteed, introduced one-way systems around sites and enhanced cleaning practices in offices, bakeries and for the fleet."
All this was against a backdrop of staff shortages due to illness and self-isolation. To support those in work, vending machines were made free, subsidies were increased in canteens and staff were given bread to take home.
"Allied Bakeries' national HR team also looked out for employees' wellbeing during what was a hugely worrying time," says the spokeswoman, pointing to free advice available through Allied's Employee Assistance Programme and financial support through Grocery Aid.
"An Allied Bakeries Coronavirus Hotline was open 24/7 for anyone to call, in confidence, with any questions or concerns they had."
The efforts didn't stop at the bakery doors, says the spokeswoman. "In addition to increasing donations to existing partner FareShare, each bakery also set up its own food donation programme for local community groups, charities, food banks and frontline service providers.
"The year is set to end [with nearly] a quarter of a million loaves donated."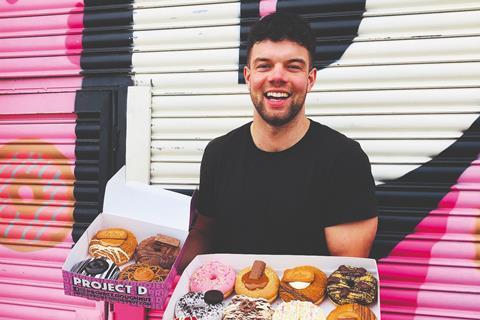 Speedy action paid off for Project D
When Britain went into lockdown, doughnut business Project D was in a precarious position. Since its foundation in 2018, the company had been doing a roaring trade across Derby and the East Midlands. Its decadent doughnuts had garnered near cult status locally and online, attracting more than 50,000 Instagram followers. But Project D had a weakness.
"We sold our doughnuts entirely face to face at kiosks and stands in shopping centres and universities and the plan was to continue to do so," says co-founder Max Poynton, who set up the business with Matthew Bond (pictured), and Jacob Watts. "In the weeks before the first lockdown, we'd agreed the lease on a kiosk at East Midlands Airport and another in Loughborough. When lockdown was announced we furloughed all our staff."
This makes where the business is now even more astonishing. "We are busier than ever," says Poynton . "We're kitting out a new bakery which is 11 times the size of our existing one and we've taken on a unit in Leeds which will act as a distribution hub for the north of England, allowing us to offer deliveries beyond our current reach."
Quick thinking has paid off. Days into lockdown, Project D brought its staff back off furlough and began selling eggs, yeast and flour direct to people's doorsteps and from pop-up stalls in car parks. It soon became clear that punters wanted something a bit more indulgent than basic ingredients.
"We quickly realised we could sell doughnuts alongside essential ingredients, and before long demand for doughnuts surpassed the demand for ingredients," he says. Meanwhile, the team was busy developing the capability to sell its produce direct to consumers via its website.
"Last year we had no online sales and today the split between online orders for delivery and face-to-face sales at pop-ups is around 50:50," Poynton adds. "We expect the online figure to increase, but we know our pop-ups are incredibly popular and attract huge queues wherever we attend."
All at a safe distance, of course.
Top bakery trends for 2021 revealed: part 1
1

2

3

Currently reading

The online boom: buying baked goods in 2021

4

5

6