Innovative hybrid bakes, hidden centre cakes and treats with eco-friendly credentials are among those predicted to be big in 2021.
We asked some of the industry's leading experts to name which products they thought would grab consumers' interest this year. Here's what they had to say: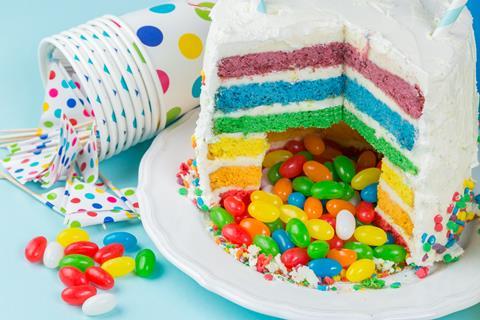 Hidden surprise celebration cakes
Who doesn't love a surprise when it comes to cake? Well, they're about to get even better according to BBF CEO Jonathan Lill who believes hidden surprise celebration cakes are "to go mainstream".
Think piñata cakes but more indulgent, moving beyond jellybeans or chocolate inside.
"From a surprise standpoint, we're expecting bakers and some quite prominent brands to move into this category with much more creative centres than we've seen previously," says Lill.
On the topic of centres, he also predicts melt in the middle puddings will gain traction.
"We've seen these mostly in restaurants previously, but we're expecting retailers to roll these out across stores, making them more available to consumers across various channels," he adds.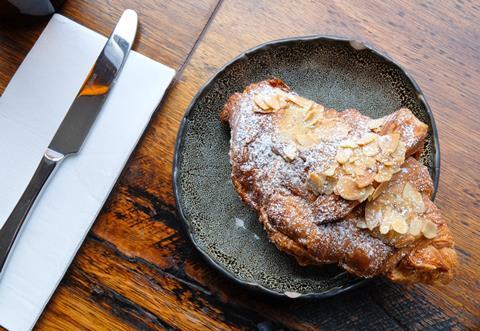 Sustainable bakery products
Creating new products from surplus adds value and cuts waste.
It's not exactly new – granny's treacle tart would have likely utilised a stale loaf of bread, as well as the classic bread and butter pudding – but it is something we'll see more of in bakery in 2021.
"Next year, we'll see even more focus on sustainability and as such bakery products will be transformed more frequently to cut back on waste," explains Stéphanie Brillouet, marketing director, Northern Europe and North America at Délifrance.
"We're seeing croissants turned into another product like the classic French almond croissant or twice-baked almond croissant. But this extends beyond viennoiserie with bread such as sourdough transforming more and more into other bakery products to get added value out of them."
This trend extends beyond simply using leftover baked goods to utilising surplus and by-products from other processes as well – just look at the 2020 Britain's Best Loaf winner for inspiration.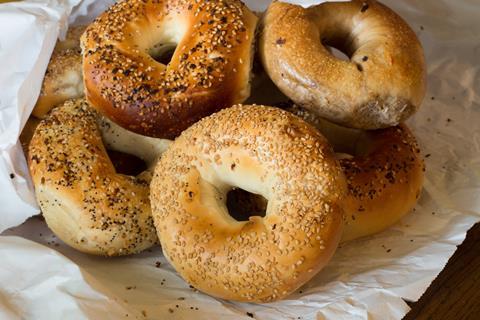 Bagels
"Bagels are my hot tip for 2021 in the bakery sector," says St Pierre co-founder Paul Baker.
They've already got a strong foothold in bakery – UK consumers chomped down on more than 300 million bagels in 2017 alone while the number of bagel sandwiches eaten out of home grew 73% between 2015 and 2019 [Kantar]. While out of home occasions have suffered as a result of the pandemic, more consumers have introduced bagels into their at-home lunchtime repertoire with 6.6m new bagel lunchtime occasions during the latter half of 2020.
New York Bakery Co looked to capitalise on this with NPD in the form of 'fancy-schmancy' Deli Bagels in November, available in Four Cheese and Loaded Everything variants.
"I think other bakery brands – not known necessarily for bagels – will follow suit," he adds.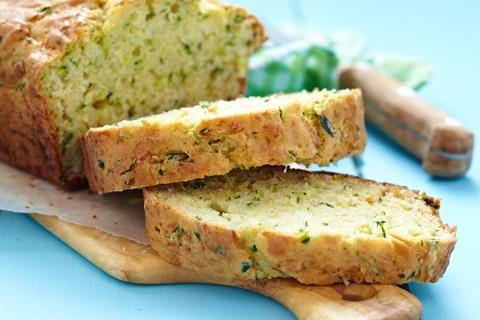 Healthy bread and cake
Health is top of the agenda for many consumers. This presents an opportunity for baked goods, such as cake, which are often thought of as indulgent treats.
"The packed lunch market is already growing significantly and as parents look to provide healthy, hygienic and cost-effective lunches for their children, we will see new healthy bread, cake and snacking options with 'hidden' nutrition such as vegetables, high fruit content and high fibre," notes Lydia Baines, digital and communications manager, Puratos.
Even more so after the government launched a consultation on banning in-store promotions of high fat, salt and sugar (HFSS) foods.
"Unhealthy snacking is shouldering a lot of blame for weight gain throughout the Covid era," adds Baines. "Retailers have already begun to home in on this with shelf space expanding in this area. We are also beginning to see promotions on healthier items."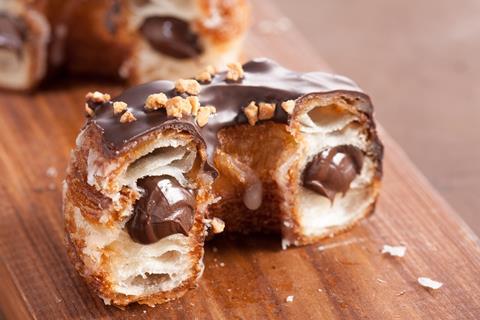 Hybrid bakes
Hybrids, such as the cronut and cruffin, aren't going anywhere in 2021. And, they'll be getting some more category mates as bakers get innovative with their NPD.
"Appealing to our sense of adventure in a year we've been forced to stay at home, the bakery hybrid is re-emerging in various forms. We're seeing the rise of cretzels – where a croissant meets a pretzel – and even macaringues – a macaron combined with a meringue," notes Kirsty Matthews, insights and marketing manager at Macphie.
Last year wasn't short of innovation in this category, with Roberts Bakery rolling out a range of fusion bakery items such as the brookie and pangel.
"What we may have once deemed a fad has become a firm fixture, with the versatility and new flavour combinations opening up the viennoiserie category across all day parts," adds Stéphanie Brillouet, marketing director, Northern Europe and North America at Délifrance.
"We've found that the most successful hybrids are the ones mixing familiar products like donuts, croissants and cookies but with a twist, or using different textures."
Top bakery trends for 2021 revealed: part 1
1

2

3

4

5

Currently reading

Bakers predict top products for 2021

6