The cake market is a veritable buffet of innovation and inspiration, with punchy flavours, over-the-top creations, and TikTok-worthy designs.
"Younger consumers and the influence of social media have helped to fuel current demand for premium, visually stunning cakes, often with global flavour influences and, ideally, a functional or health benefit too. These are trends that are big news in bakery and are only set to continue into 2024," according to Jacqui Passmore, marketing manager UK and Ireland at Dawn Foods.
"Much of this exciting innovation in cake format and flavours is being driven by small artisanal bakeries across the UK who have the flexibility to be able to introduce new limited-edition seasonal lines and quickly respond to the next big 'cake craze' on social."
So, what are the next big cake crazes? And how can bakers of all sizes tap into them?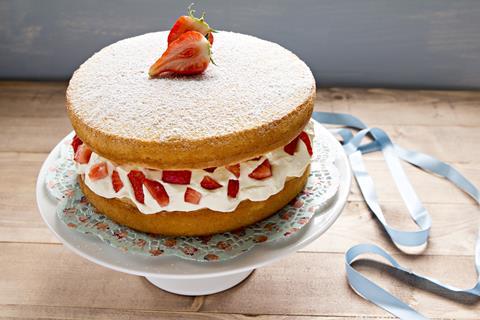 Take a trip down memory lane
Bakery fans refuse to take off their rose-tinted glasses when it comes to sweet treats.
"The nostalgia trend that's been influencing the bakery market these last few years is still strong and will continue into 2024, evolving with a retro element," believes Lawrence Watson, managing director of bakery ingredients supplier Kluman & Balter. "Classics such as Victoria sponge will always be popular but there is now a demand for cakes that remind consumers of days gone by – think hundreds & thousands school tray bakes, strawberry shortcake, and coffee cake."
Nostalgia and retro were also named among the top trends in sweet bakery that bakers are set to take advantage of in 2024. A recent member survey by the Craft Bakers Association (CBA) found that 29% were planning to take advantage of these them over the next year.
This is particularly true at seasonal celebrations, such as Christmas, when consumers seek comfort in the familiar. Iced fruit cake remains a staple part of retailers' ranges while flavours such as Black Forest continue to reign supreme, with a Black Forest Woodland Cake at Asda providing one example of this trend in action.
"At Christmas and other seasonal occasions like Easter, demand for traditional favourites and nostalgic flavours is at an all-time high," says Karen Dear, chief executive of the CBA. "Half of the bakers surveyed said that at Christmas their customers favoured a mixture of traditional bakes and modern bakes, more than a third (38%) favoured traditional bakes, and 6% favoured modern ones."
Those looking for a combination of traditional and modern can often be enticed by the 'tradition with a twist' trend – taking elements of classic concoctions but bringing them into the modern era.
This can be seen in action in the newly launched Booths cake range, available in its cafes, as it looks to balance the needs of its core older customer demographic while tempting younger consumers.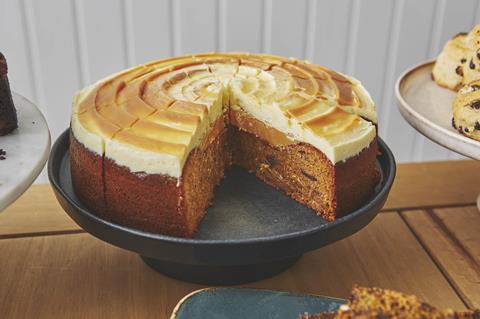 One standout example from the range is the Sticky Toffee Slump Cake which sees a sticky toffee sponge filled with caramel sauce and topped with white chocolate frosting and a caramel swirl. The cake is cooled upside down to create the titular slump, which is then filled with caramel.
Honey, I shrunk the cake!
"Everyone loves a showstopper, but luxury mini versions of cakes are growing in popularity too," explains Watson from Kluman & Balter.
Small cakes aren't anything new – think cupcakes, cake pops, and mini muffins – but miniature varieties are being updated to entice a modern audience.
"Cupcakes were thought to have had their day, but they have taken on a new role as the perfect portion of classic cake with bakeries using the format to ground their counters in nostalgia," notes Daryl Newlands, head of brands & marketing at cake manufacturer Finsbury Food Group, which counts Mary Berry, Thorntons, and Disney under its licensed brands.
"The mini loaf cake format has embraced both traditional flavours and their more outrageous counterpart, piling on the loaded visuals and drizzled with contemporary flavours," Newlands adds, highlighting LoafMCR as an example of this in the market.
The Manchester-based artisan bakery has modernised the loaf cake, with a focus on mini versions, by adding on-trend fillings and toppings. Its Hazelnut Bueno Mini Loaf, for example, sees a hazelnut & cocoa sponge, topped with a white chocolate hazelnut buttercream, and glazed with a Belgian chocolate milk chocolate drizzle and chopped wafer pieces. The Ultimate Party Loaf, meanwhile, has a vanilla sponge with funfetti sprinkles inside, topped with a creamy buttercream, and a drizzle of white chocolate in a colour of your choice and then covered in more sprinkles.
As demonstrated by LoafMCR, smaller cakes offer bakers the chance to get creative with flavours, encouraging consumers to step outside their comfort zone in the process.
"Not only can bite-sized cakes be unique and visually appealing, but they also offer an opportunity to try new and different flavours. This will allow the consumer to be adventurous, and also gives bakers an opportunity to try fresh and rare flavours, to see which go down a treat," adds Andrew Jamieson, marketing executive at Scottish ingredients manufacturer Macphie.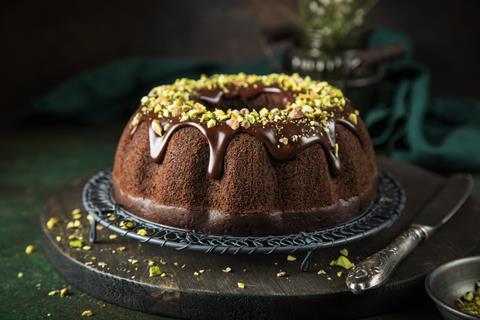 A flavour sensation
Speaking of flavours, the cake market remains as vibrant and experimental as ever with pistachio, cocktails, and blonde chocolate among those gaining traction on the cake scene.
"Inspiration for cake flavours is coming from every area, from nostalgic flavours such as biscuits, sweets, breakfast cereals, and popular drinks to worldwide cultural appreciation," says Anna Rugen, development chef at Patisserie Valerie. "Japanese flavours such as miso, matcha and mochi have seen a significant rise in usage over the past few years and this seems set to continue."
Pistachio is undoubtedly the up-and-coming flavour on the bakery scene, appearing in everything from sponge squares in M&S to premium doughnuts from London's Donutelier by Roladin.
"Peanut butter is making room for pistachio, as a filling and as a topping flavour – also let's not forget that stunning colour," notes Watson from Kluman & Balter.
Coffee is another flavour highlighted by Watson, who notes that this is evolving from the simple coffee & walnut cake to those utilising the flavours of chai and cappuccino, as well as being combined with the likes of banana and Irish cream.
"We are seeing 'brown flavours' rising in popularity across the sweet bakery sector and beyond," notes Michael Schofield, marketing manager at supplier British Bakels. These include chocolate, vanilla, coffee, brown sugar, caramel, peanut butter, toffee, fudge, tiramisu and dulce de leche.
Jamieson from Macphie highlights salted caramel's continued success, adding that combining it with ginger in a cake and then topping it in salted caramel popcorn is sure to be a showstopping.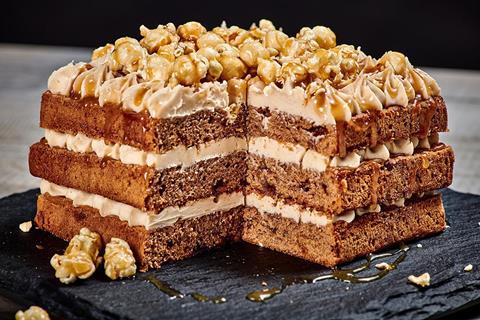 "Speculoos is another flavour favourite among consumers, particularly during the autumn and winter. Whether used as a filling or drizzled over the top, the combination of sweetness and a little spice makes it an ideal addition to celebration cakes, cupcakes, loaf cakes and more," he adds.
The classics – chocolate and vanilla – remain at the top of the flavour pyramid in cake, but even these are evolving.
Schofield from Bakels points to Innova's Market Insights for Cakes, Pastries & Sweet Goods for January 2017 to December 2022, which shows milk chocolate and dark chocolate as 'mature' flavours in terms of their lifecycle, whereas white chocolate is on the watchlist for growing flavours.
"It's also good for bakers to be aware of flavour trends in sweet bakery launches in Europe – white chocolate and vanilla are flavours on the rise, respectively up from 2.7% to 3.9% of launches and 4.0% to 5.7%," he adds.
Liz Gabriel, bakery specialist at flavour supplier I.T.S concurs when it comes to white chocolate.
"One of the big cake flavours this season is white chocolate and it is now being developed further with the emergence of the slightly sweeter blonde chocolate which can be seen in many cake launches this year," she says.
Puratos became the latest supplier to help bakers tap into this trend with the launch of its Satin Crème Cake Blonde mix in October.
"White chocolate can look visually stunning and is particularly suited to 'celebration cakes with a difference', such as a white chocolate & lavender wedding cake. White chocolate also works well with tart fruit flavours and we're working on some state-side inspired combinations for cakes such as White Chocolate Key Lime Pie and White Chocolate Cookies & Cream," she adds.
Other flavours continuing at pace are those inspired by cocktails.
"Cocktails compliment the cake market perfectly, carefully blending flavours to create that perfect sip (or bite)," says Newlands from Finsbury Food Group.
"Retro coconut and pineapple flavours from the classic piña colada, through to more contemporary influences of vanilla and passionfruit from the pornstar martini – look out for Negroni-inspired drizzle cakes with bitter orange and indulgent espresso martini ganache's in desserts," he adds.
Over the top is coming out on top
From minimalism to maximalism – over-the-top decoration is coming out on top in 2024.
When looking for cake trends, according to Fabien Levet, commercial manager at Pidy UK, experts tend to focus on the wedding market. And bold and beautiful creations are in this season.
"The consensus for 2024 is that ultra-textured bakes, intricate designs that complement the brides' dress, or Lambeth cakes – the use of royal icing to 'over-pipe' detailed designs, often in the style of hanging garlands, and topped with cherries to achieve a vintage look – are all set to be popular next year," believes Levet.
"These wedding-centric cake trends are sure to trickle down to the rest of the bakery sector, with some subtle alterations. Rather than the full Lambeth effect, bakers are achieving retro aesthetics by using bold black icing to line their cakes – giving them a pop art look, reminiscent of the 50s."
Simone Tasker, operations manager at The Hummingbird Bakery, which recently opened its sixth London site, agrees. She notes an increase in "old-school baking designs such as hand-piping on cakes".
"Personalisation has always been popular and still is. We are going to see customers requesting more intricate and unique designs to make it personal to whoever the cake is baked for," she adds.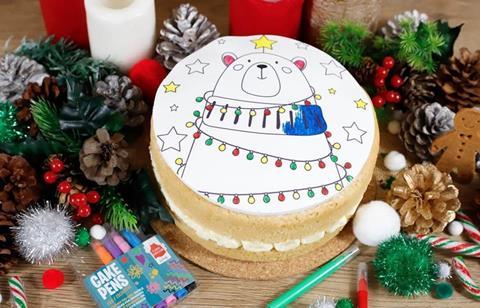 Interactive cakes, including those with fondant icing consumers can colour in themselves, are also gaining traction according to Anna Rugen from Patisserie Valerie. She also highlights the rise of comic book-inspired cakes which are "in appearance and are both inspired by and resemble comic book drawings, are a fun and unusual cake for any occasion". "They started as a post on TikTok and have been trending since. They have become increasingly popular, demonstrating the power of social media. Many trends are driven by social media which can go viral overnight," Rugen adds.
Stick it on the socials
On the topic of TikTok and social media, online platforms are becoming an increasingly important place to find cake trends. In some cases, such as the comic cakes mentioned above, the trend was spawned on TikTok with a flurry of creators looking to tap into demand for the content, and cakes.
"Social media is having a major impact on the cake market," says Dear at the Craft Bakers Association. "When it comes to innovation, social media platforms like Instagram and TikTok offer bakers inspiration to explore more unusual or extravagant cake types and flavours, and a place to showcase their offerings," she adds, noting that four out of 10 of its members use social media to showcase their cake offering and drive consumers to their stores.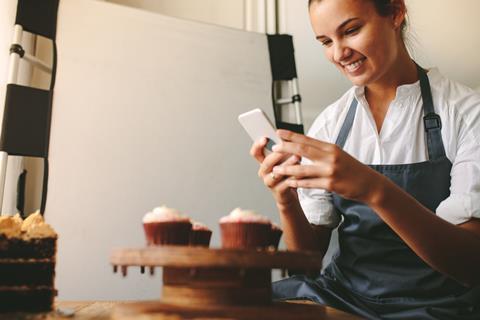 At present, over-the-top, highly decorated cakes are proving popular as consumers like to see the process of their creation from start to finish.
"Themed, loaded cakes are fun and are often visually stunning too so appeal to today's Instagram and TikTok-loving younger consumers," adds Passmore, from Dawn Foods. "Mintel's 2023 Flavour survey shows that 35% of internet users who are 16+ like flavours that remind them of their childhood and are inspired to try flavours which they see on social media."
But keeping up with what's hot on TikTok would be unfeasible for a professional bakery business – after all, what's hot one second is not so hot the next. That's not to say there isn't value in keeping up with what's happening online.
"From a business perspective, exposure through influencers and videos on social media can be crucial to their success or decline," believes Rugen.
"It can drive new customers to purchase products and the technology allows sales through direct links to the website or shopping through the platform itself. The power of social media is incredible – exposure of one product on a post can drive sales of that item significantly."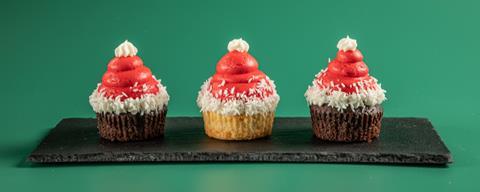 'Tis the season to eat cake
Thankfully, every season is cake season, and there's a cake for every season.
Embracing the changing weather with limited-edition celebration cakes, muffins, and more is becoming increasingly common – and will only become more important in 2024.
"People will again look for inspirational, creative and convenient choices that give them 'affordable luxuries' and cakes certainly do that," says Miriam Bernhart, category director for bread & pastry solutions, CSM Ingredients. "Ranges and price points will have to meet these demands and 2024 ranges will include formatting and seasonal adaptations with a fresh look for every season."
Seasonality is a big consideration for Patisserie Valerie, and Rugen notes the business has seen "real engagement with seasonal flavoured cakes" such as its limited-edition Mango & Passion Fruit Cake, which "exceeded expectations". Other seasonal sweets from the firm include toffee apple and pumpkin spice latte flavours for autumn, and gingerbread and mint hot chocolate cakes for winter.
"What we love about seasonal cakes is that it gives us the opportunity to embrace new flavours and trends, or put a twist on popular products," Rugen adds.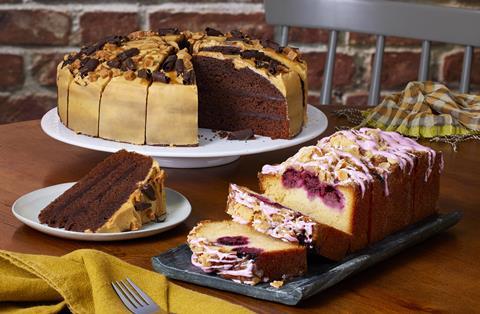 It offers consumers another excuse to indulge with a sweet treat whether as part of their daily routine or for a larger celebration. Coffee behemoth Costa has got the former nailed, rolling out limited-edition muffins, traybakes, and sharing cakes throughout the year. A Neapolitan Muffin and Eton Mess Blondie were among the summer sweet treats while an Apple & Blackberry Loaf Cake, Maple Hazelnut Muffin, and Chocolate & Salted Caramel Cake were among the autumn additions.
For those without the purchasing power of Costa, which has more than 2,700 stores across Great Britain, introducing seasonal items doesn't require a complete overhaul of your range.
"The great thing about cake is once you have a great basic sponge mix you can adapt flavours to the seasons, adding compotes to the decoration or adding fruit into the mixes," says Georgia Mugford, head pastry chef at Bedruthan Bakery in Cornwall. With autumn well under way, bakers will be embracing dried fruits, zesty flavours and wholesome fruits like apples, pears and rhubarb.
"Pairing these with spices will warm you from the inside out on the dark gloomy days. So, although the flavour profiles of the cakes may change with the season. The moist sponge recipes underneath will be the same," Mugford adds.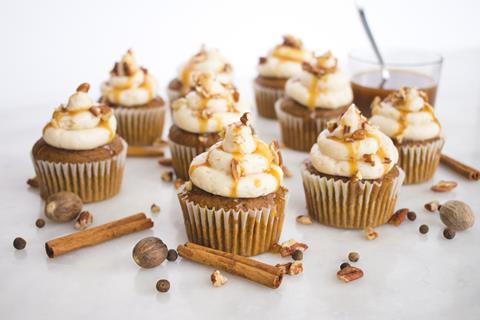 While seasonally themed creations pique interest, the lines are blurring around what is deemed seasonally appropriate, according to some.
"Seasons are fast becoming a blur and what used to be a spring cake and autumn cake are seamlessly blending and sharing space," believes Newlands at Finsbury Food Group. "Spice is not just for Christmas and berries are embraced all year round – never before has the preconception of seasonal flavours been so up for interpretation."
He points to chocolate orange as one example of this, noting that it used to be a Christmas staple but is now a year-round flavour sensation.
"Indulgence and comfort are where the colder seasons drive the richer flavours and make way for lighter options during the warmer months," he adds.
Have your cake and eat it
Cake may not be considered healthy, but many bakers and brands are striving to make it healthier.
"People are trying to get health benefits from every bite that they eat nowadays, with a move towards health benefits from cake, such as including vegetables, dropping the sugar and upping the fibre, or added health claims," explains Lisa Smith, owner of Ginger Bakers in Cumbria. "The industry is also looking at ways to reduce the fat and sugar content in a cake, whilst still maintaining the taste and texture. Unfortunately, it's not as easy as people think, because sugar provides structural integrity and moisture, both integral to a good bake."
CSM Ingredients' Bernhart adds that providing a reduced sugar offering is increasingly important due to government legislation which has placed restrictions on where cakes and other products deemed to be high in fat, sugar, and salt can be located in supermarkets.
Other things have changed of late as well. "Post pandemic, consumer attitudes to sweet bakery products have changed. Dawn's Global Trends Report found that enjoying something sweet every day has gone from 'something I feel guilty about' to 'something that makes me feel good' and this attitude is helping to drive demand for cakes, albeit often in smaller bite size portions," according to Passmore from Dawn Foods.
"Younger consumers are also looking for an indulgent cake but with a healthier twist – added fruit, fibre or protein for example – to help mitigate the guilt," she adds.
Watson at Kluman & Balter concurs, predicting that high-protein celebrations cakes may even make an appearance in the future as consumers look for healthier sweet treats.