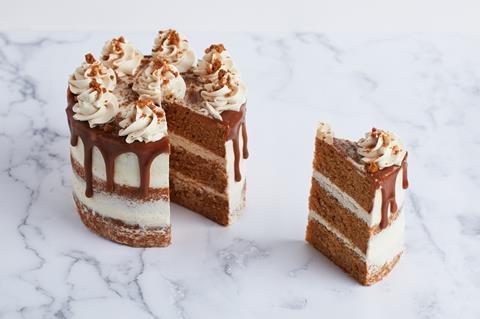 Bakery and patisserie ingredients supplier Puratos UK has unveiled a 'blonde bombshell' to help bakers tap into the blonde chocolate trend.
Joining the Satin Crème Cake Mix range for a limited time, Satin Crème Cake Blonde will enable bakers to create products with a creamy white chocolate taste and caramelised hue, Puratos said. The mix can also be used to create muffin, pancakes, cookies, and more, it added.
The new flavour is the eighth addition to the Satin range – joining Plain, Chocolate, Coffee, Toffee, Lemon, Carrot, and Coconut.
Puratos said the blonde iteration has also been 'thoroughly trialled' to ensure the mix works effortlessly with inclusions such as chocolate or fruit without the risk of sinking ingredients.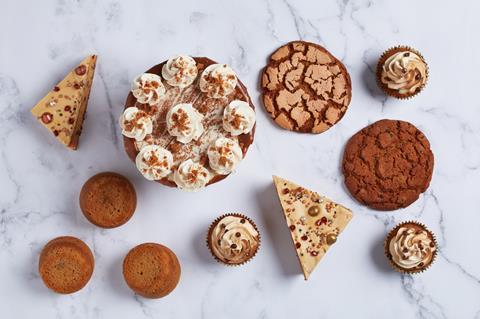 Blonde chocolate (or gold chocolate as it is sometimes known) has been growing in popularity over the past couple of years, which Puratos attributes to its unique caramelised white chocolate flavour profile and appealing colouring. It was M&S' signature flavour for its 2021 Christmas range, taking centre stage in a Golden Blonde Chocolate Star Christmas Pudding and also appearing in a Triple Chocolate Panettone, chocolate spread and more.
Since then, the caramelised white chocolate has made an appearance in hot cross buns, and returned for Christmas 2022 and 2023 with the Golden Bûche de Noël from Waitrose putting the flavour front and centre for this year.
"Recent data shows that sponge bases dominate UK cake launches from 2021 and 2023 and blonde chocolate emerging as a key flavour in recent years, creating Satin Crème Cake Blonde was a no-brainer for us," said Lydia Baines, marketing manager, Patisserie at Puratos UK.
"Our customers trust the Satin brand, and we're excited to help them offer even more flavour choices to cake lovers with Satin Crème Cake Blonde. The fact that the delicious new mix is versatile enough to use in cookies, muffins, loaf cakes, mini cake slices, large celebration cakes, blondies, cupcakes, and more is the cherry on top."
Vegan choux mix
Puratos has been busy with NPD of late, rolling out what it claims to be the first-of-its-kind vegan choux mix in early September.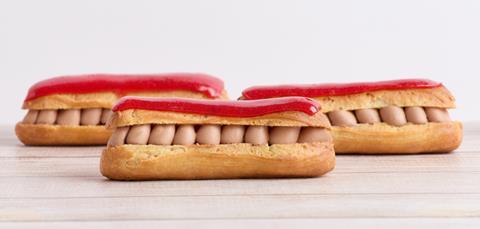 The mix enables pâtissiers to expand their plant-based portfolios, the supplier said adding that the vegan alternative rivals the performance of its traditional egg-based counterparts, resulting in irresistible pastry that boasts exceptional aerated volume, superb webbing, and a golden crust.
Professionals just need to add oil and water to the mix to create vegan profiteroles, eclairs, and choux buns.
Although other plant-based bakery and patisserie ingredients have emerged in recent years, including for croissants and cakes, a vegan-friendly solution for choux pastry was trickier to perfect. The challenge lies in replicating the distinct functionality of egg, which is central to the pastry's structure, texture, and irresistible golden colour, Puratos noted.