Booths has refreshed its cake and sweet treats range for its cafes with a host of new additions, including a Victoria Sponge Loaf Cake, Sticky Toffee Slump Cake, and Hazelnut Créme Stuffed Cookie.
British Baker caught up with the people behind the range to find out about the inspiration and development process for the new products.
It all started with food safaris in London and Manchester during autumn 2022, where the team would identify up and coming flavours and formats.
"We reviewed the existing range to understand what was and wasn't working, and where we had any gaps or any areas of improvement whilst always considering our customers palates and pockets," explains Martin Wolstenholme, product developer at Booths.
"We made sure we covered multiple formats – traybake, loaf, round cake, tray cake and stuffed cookie – to give variety and depth to our cake fixtures in the café. We also covered multiple flavour profiles to suit everyone's needs, so there's chocolate-based, fruit-based, and nut-based products, as well as vegan and gluten-free options."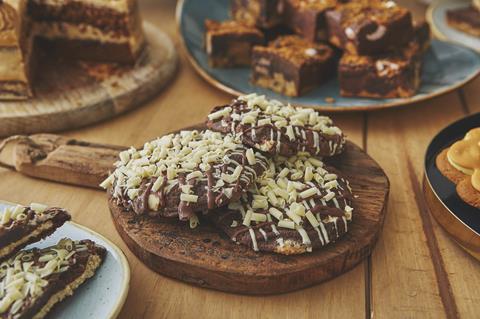 The range comprises year-round options as well as seasonal additions, which are available in 21 cafes across the Booths estate. The year-round options are:
Chocolate Fudge Cake
Victoria Sponge Loaf Cake
Coffee & Walnut Cake
Carrot & Orange Cake
Lemon, Orange & Pistachio Polenta Tray Cake (gluten-free)
Hazelnut Créme Stuffed Cookie
Dandy the Lion Gingerbread Biscuit
Fruit Scones
The baked goods range in price from £2.75 to £3.95 but are also available as part of the Booths cardholder incentive programme, which allows customers to get any coffee and cake for £5.
All the baked goods are made by Booths' existing suppliers – The Harrogate Cake Co and Lathams of Broughton – as well as new supplier Cakehead.
Many of the year-round products embrace the 'tradition with a twist' trend, which allows Booths to target its core older customer demographic while tempting in younger consumers.
One example of this is the Lemon, Orange & Pistachio Polenta Tray Cake, which has an orange & polenta sponge soaked with an orange & lemon drizzle, topped with orange frosting and pistachios.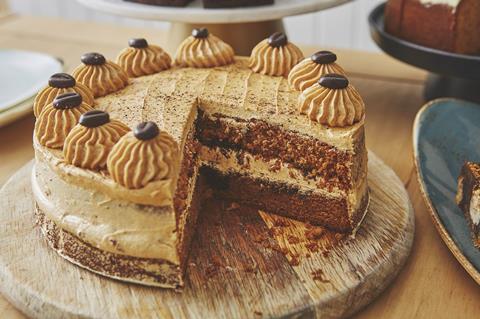 The Coffee & Walnut Cake is another. It's made with Booths Sumatra coffee, roasted by the retailer at a site in Preston. Lathams of Broughton then uses the coffee to make a syrup, which is used in the creation of the cake. The cake comprises a coffee and walnut sponge decorated with coffee buttercream and chocolate coffee beans.
Booths also wanted to refresh its scone offering – a core item on its café menus. Megan McCardle, food-to-go and hospitality buyer at Booths, explains that Booths used to buy scones in from a supplier already baked and would just refresh them in the oven prior to serving.
"I didn't feel like the quality [of the scones] was where we as a business would expect it to be," McCardle says. "So, we started working with one of our suppliers to create a frozen scone. It comes in as a frozen puck and we bake it off fresh for sale just that day in our cafes."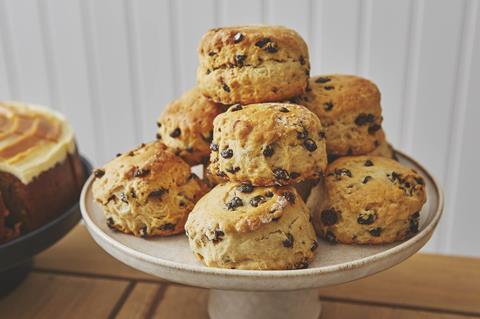 Seasonal sweets
The seasonal line-up embraces many of the flavours seen on the food safari last autumn, including maple, toffee, caramel, hazelnut, and apple. It comprises:
Sticky Toffee Slump Cake
Toffee Apple Cake
Seasonal Berry Bakewell Slices
S'mores Brookie Traybake
Pecan & Caramel Brownies (gluten-free and vegan)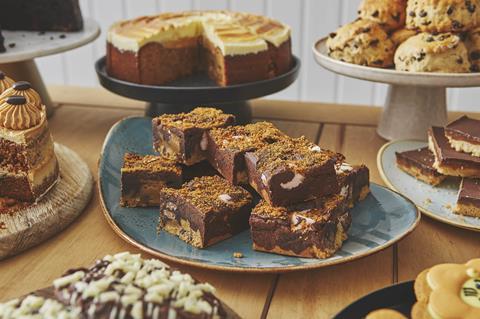 A standout product from the seasonal range is the Sticky Toffee Slump Cake. It sees a sticky toffee sponge filled with caramel sauce and topped with white chocolate frosting and a caramel swirl.
"This is actually our chairman's favourite product from the range," Wolstenholme admits. "The cake is cooled upside down, so you kind of get a well in the middle. We then fill the well with a smooth caramel sauce. When you get a slice, you can see a really nice thick layer of sauce."
The team debated whether to use the term 'slump cake' but found it to be a conversation starter between staff and customers. "It's a great talking point because everybody asks: 'what is a slump cake?'," McCardle says.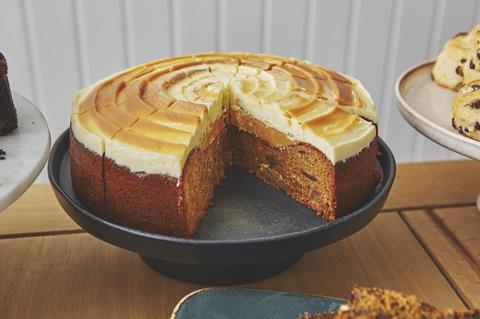 The Toffee Apple Cake, available in Café 1847 only, also provides a talking point. It's made up of a lightly spiced apple sponge with apple compote, toffee icing, and a salted caramel sauce.
"Visually it looks very good," adds McCardle. "As for the flavour, you've got the sharpness from the apples along with the sweetness from the toffee – it just really balances out nicely."
Café 1847
The Café 1847 concept recently opened at Booths in Clitheroe, making it the second in the retailer's estate, with the first being at Hesketh Bank in Lancashire.
"Café 1847 is sort of a new concept to us and it's very much how we want our cafes to be perceived in the future – it offers an improved quality of food, service, and the overall look and feel of the café," says McCardle. "It's a completely different level to what you'd see in the rest of our estate."
The main difference, she adds, is the menu and quality of food. Booths has removed anything pre-packed from its café range, meaning the sandwiches and fillings are freshly made in-store.
"We try and use the stores as our larder, where possible, so all the ingredients that we have in the cafe you can buy on the shop floor," McCardle adds.