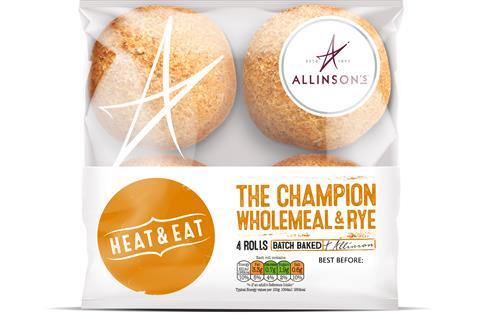 Allinson's Bread has launched a premium crispy-crusted heat-at-home range of batch-baked bread rolls.
The Champion Wholemeal & Rye and Scandalous Seeds Wholemeal duo make their debut in Tesco today (5 September) and Asda on 28 September (rsp: £1.65/4x80g).
The Champion variant is made from a wholegrain blend, while the latter contains a mix of five different seeds and grains 'to give body, bite and flavour'.
The rolls require just five minutes in the oven to create a 'deliciously crispy crust and soft warm inside' and mirror the flavours available in the brand's core range of batch-baked sliced bread, Allinson's said. They can also be baked from frozen.
Anna Millichamp, Allinson's marketing manager, described heat-at-home as an "untapped area for premium breads, with a lot of growth potential".
"The premium bread category is currently growing at 12.1%, and we see this product launch has the potential to spur this on," Millichamp said. She added that people were eating at home more and eating out less.
"We wanted to help provide a quick and simple shortcut to up the ante on the different ways to enjoy eating bakery at home. We want people to bring the restaurant experience into their kitchen and enjoy those 'Come Dine With Me' moments when guests ask, 'Did you bake these rolls from scratch?' This launch is designed to do exactly that, bringing all the taste, quality and rebellious spirit of Allinson's to a space where very few brands play."