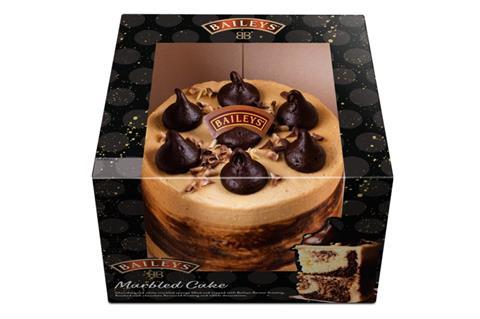 Finsbury Food Group expanded its range with the Diageo brand with a new Baileys marble cake.
The Baileys Marbled Celebration Cake consists of a chocolate and white marble sponge filled with marble swirled, Bailey's-infused frosting. It is on sale from this month for an rsp of £12.
Finsbury Food Group has been working with drinks firm Diageo since 2018, on its Baileys and Guinness brands, introducing the first range of adults-only cakes to supermarket shelves. The firm plans to extend the range further in 2021, it said.
With a focus on autumn, the new launch follows the launch of the Baileys Freakshake Cake, Baileys Chocolate Yule Log, Bailey's Salted Caramel Cupcakes and, most recently, the Baileys Strawberries and Cream Cake.
"As the autumn months approach, we want to give customers a product that echoes current trends in the baking industry, at ease. Think, sat by the fire on a drizzly day with a piping hot cup of tea and slice of Baileys Marbled Cake. We see huge opportunities to build on the momentum of the range and continue to add more exciting SKUs in the future," said Jack Cook-Broussine, brand manager at Finsbury Food Group.
The Baileys range continues to do well, demonstrated by the retailers' response, added the firm. Baileys Marbled Cake celebrates the signature flavourings of Baileys and taps into the on-trend marble technique.
"The marble effect is something we've wanted to put our Baileys stamp on for a while, we've been working hard to stay ahead of the curve and achieve the most beautiful design that still has that delicious, mouth-watering, signature Baileys taste, well loved by many. We have already enjoyed great success with Finsbury and our range of Baileys-infused cakes," added Declan Hassett, senior licensing manager at Diageo.
The Baileys Marbled Celebration Cake is available now in Morrisons, Asda, Sainsbury and Tesco.