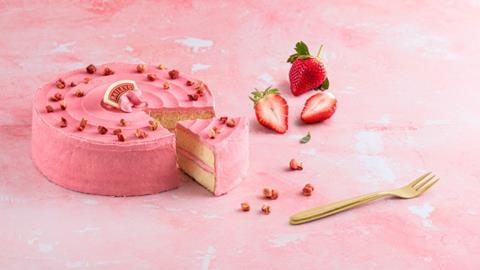 Finsbury Food Group has teamed up with Diageo to launch a Baileys-branded Strawberries & Cream cake.
The celebration cake comprises strawberry flavoured sponge cake, Baileys Strawberries & Cream flavour frosting and dried strawberry pieces.
The summer-focused product comes after the launch of the Baileys Freakshake Cake, Baileys Chocolate Yule Log and Baileys Salted Caramel Cupcakes.
"Our Baileys range goes from strength to strength as we've worked hard to create delicious yet innovative cakes that deliver something different to the cake fixture," said Jack Cook-Broussine, brand manager at Finsbury Food Group.
"This is the first summer-focused product for us for the Baileys range and we already see huge opportunities for us to continue to innovate around the Baileys range and add some exciting, additional SKUs."
Finsbury teamed up with drinks firm Diageo in 2018 through its Baileys and Guinness brands to introduce adults-only cakes to supermarket shelves.
"We have seen that fresh strawberry flavourings mixed with our well-loved creamy liqueur are a firm favourite in the summer months," said Declan Hassett, senior licensing manager at Diageo.
"We have already enjoyed great success with Finsbury and our range of Baileys-infused cakes and have no doubt this is going to be one to be enjoyed throughout the summer!"
The Baileys Strawberries and Cream celebration cake is available now in Tesco for an rrp of £8.
The cake launch follows a deal between Bahlsen and Baileys to create Baileys Squares Strawberries & Cream Biscuits.