From doughnuts to desserts, Britain's bakers have been busy conjuring up new Halloween treats and resurrecting spooky products that have proved a hit with shoppers in the past.
Earlier this month we took a look at some of the devilish delights created by bakery businesses, and here we offer up further treats that will be on shelf for Halloween: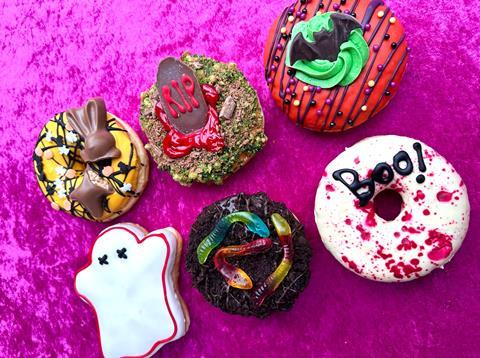 Halloween Half Dozen, Project D
Doughnut specialist Project D has unleashed a half-dozen of gruesome treats that are available in a box of six for £24.95 plus shipping. The doughnuts can also be bought individually at the brand's store in York city centre or at pop-up events for £3.95 per doughnut. The range comprises:
The Broken Bunny: This rather unfortunate Malteser Bunny lying broken on top of a ring doughnut filled with blood-red custard, dipped in yellow white chocolate and finished with a spiral of black white chocolate drizzle and Halloween sprinkles
Rest in Pieces: A doughnut dipped in salted caramel and dunked into a tray of green cream cake crumb, topped with crumbled Flake and centre filled with blood red custard
Bat out of Hell-oween: An orange white chocolate base, purple white chocolate drizzle and seasonal crunchy balls, this is centre-filled with orange cream; topped off with a green white chocolate frosting swirl and a chocolate bat
GhostyMcGhostface: Filled with white chocolate hazelnut spread, dipped in vanilla icing and topped with an outline of red, white chocolate and two crossed eyes
Down in the dirt!: Pumped full of milk chocolate filling, dipped in milk choc icing, drizzled with milk chocolate and squirming with three jelly worms
Blueberry Boo! Surprise!: A blueberry-filled ring dipped in white chocolate, covered with blood splatter and topped with a hand-piped milk chocolate Boo!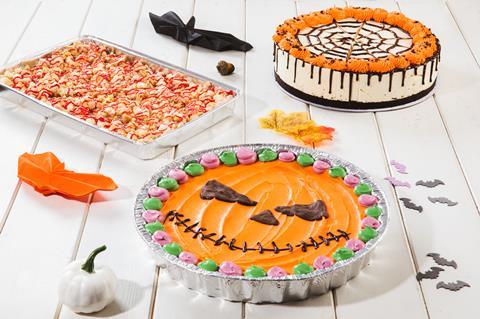 Halloween desserts, Just Desserts Yorkshire
Just Desserts Yorkshire has unveiled a range of Halloween-themed desserts including a a pumpkin-face cookie and a white chocolate and honeycomb rocky road. The desserts are:
Gooey White Chocolate & Honeycomb Rocky Road: A white chocolate base filled with cherries, marshmallows, biscuit and honeycomb, and finished with red drizzle and coloured sprinkles
Spider Web Cheesecake: A dark chocolate crumb base topped with cheesecake mix, finished with a dark chocolate drip spiderweb, orange rosettes and a sprinkle of 'black magic' crumb
Pumpkin Face Cookie: A pumpkin face created using a soft cookie dough base finished with hand-piped orange, green and purple buttercream.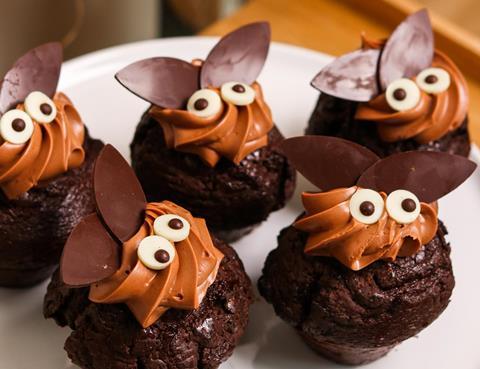 Boo the Bat Chocolate Muffin, Ole & Steen
Boo the Bat - a dark chocolate muffin topped with a layer of chocolate frosting, googly eyes and bat wings (rsp: £3.45) - is one of the ghoulish goodies on offer from Ole & Steen this Halloween.
The other products in the limited-edition line-up, which is available until 31 October across all 26 London stores, are:
Eye See You: A carrot muffin covered in cream-cheese frosting, sprinkled with scarlet powder and topped with a chocolate eyeball (rsp: £3.45)
Spooky the Marshmallow Whip: A light marzipan base wrapped in marshmallow, dipped in white chocolate and decorated with a dark chocolate face (rsp: £3.95)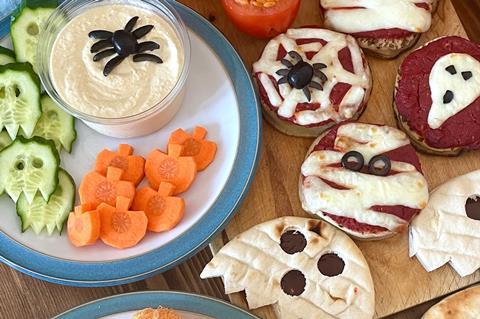 Rescue Box, Earth & Wheat
Wonky food subscription service Earth & Wheat has launched a themed Halloween Rescue Box that contains a selection of rescued veg, fruit, and bread. Along with suggestions for how the contents can be turned into Halloween treats, the box contains an exclusive kids' activity pack that includes spot-the-difference, a maze, and dot-to-dot. Earth & Wheat says the aim of the box is to make educating children about tackling food waste fun at Halloween.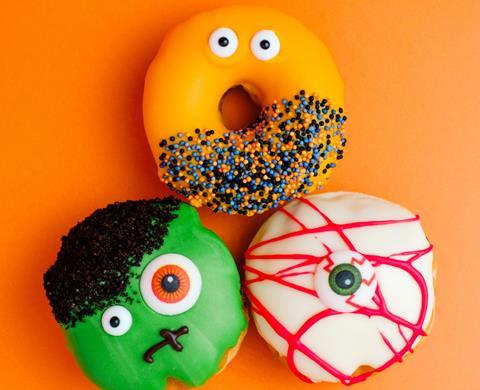 Halloween trio, Planet Doughnut
Launched six years ago in Shrewsbury, Planet Doughnut now has eight stores across the Midlands and the North West. The business offers an ever-changing menu of more than 100 varieties that includes three Halloween specials:
I've Got My Eye On You: A white chocolate covered, jam-filled doughnut complete with a sugar eyeball
Dave: An orange-coloured, vanilla-flavoured ring doughnut with googly eyes and black and orange sprinkles
Frank: A bright green, vanilla iced, jam-filled take on Frankenstein's monster, complete with Oreo crumb hair.
"We love events like Halloween where we can really let our creative juices flow," says owner Duncan McGregor. "We're bringing back a trio of customer favourites that are the perfect way to celebrate the spookiest time of year."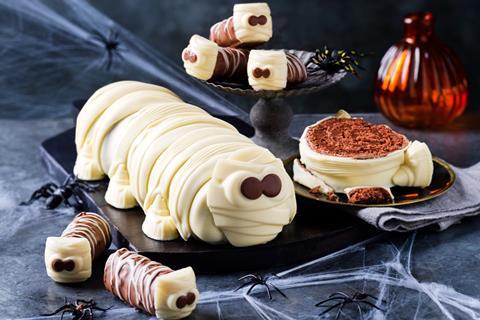 Yummy Mummy Colin the Caterpillar, M&S
Marks & Spencer's Yummy Mummy Colin the Caterpillar is returning this year. With 190% more chocolate than the original Colin, Yummy Mummy features chocolate sponge, filled with chocolate buttercream, then coated in a layer of Colin's classic milk chocolate and a layer of white chocolate.
It is part of what M&S describes as 'a fang-tastic range of treats, perfect for every celebration – whether you're hosting the ghoul-est party in town, having a quiet night in, or taking the little one's trick or treating'.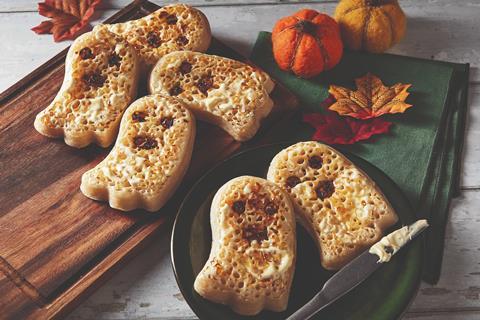 Ghost Crumpets, Morrisons
Morrisons reckons these Ghost Crumpets (rsp: £1.25/six-pack) will 'add a ghoulishly good touch to breakfast'. They appear in a wide range of seasonal products launched by the retailer including a Spicy Fright Meat Feast Pizza (rsp: £3.50 each, or two for £5) that is topped with chilies, pepperoni and chicken; Design Your Own Pumpkin Biscuits (rsp £1.99/four-pack); and Pumpkin Flooded Cupcakes (rsp: £1.45 for two).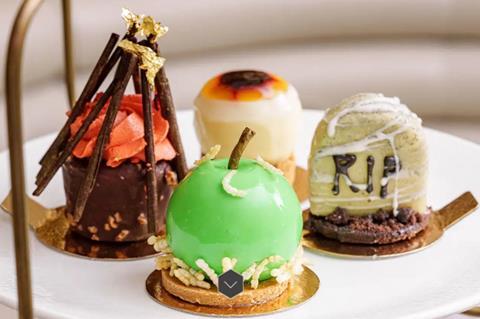 Afternoon Tea, Royal Lancaster London
This London hotel is inviting visitors to enjoy a Halloween afternoon tea, promising: 'Bewitching bites and ghostly delights, as potions bubble and sweets cast a spell. A cauldron of flavors awaits, as darkness falls and your taste buds embark on a ghoulish adventure'.
The savoury treats include a chicken salad sandwich with onion and mustard on white bread, roast beef sandwich with horseradish cream on granary bread, smoked salmon sandwich with cream cheese and chives on wholemeal bread, egg & watercress salad sandwich on wholemeal bread, and a cucumber sandwich with salted butter on white bread.
Sweet treats include warm handmade scones served with clotted cream and preserves, Poison Apple Feuilletine biscuit, a Tombstone Lady's finger sponge, a Bonfire Pecan financier, and an Eyeball Pear William panna cotta.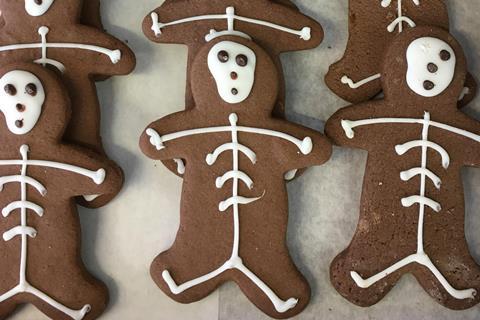 Chocolate Shortbread Skeletons, Cavan Bakery
Make no bones about it, family-run business Cavan Bakery has plenty of treats in store for Halloween, including these hand-decorated chocolate butter shortbread skeletons.
Founded in 1929, Cavan Bakery has grown from a small family bakery to a group of 13 bakery shops across south west London and Surrey, plus a riverside café.
Launched for spooky season alongside its tasty skeletons are:
Shortbread Ghosts: Butter shortbread hand-finished with Belgian chocolate
Spooky Cupcakes: Vanilla & Chocolate sponge cupcake hand-finished in Halloween themed colours and decorations
Shortbread Skulls: Butter shortbread hand-finished with jam and icing
Spider Cupcakes: Vanilla & Chocolate sponge cupcake hand-decorated with Oreos & icing
Gingerbread Mummies: Cavan's classic gingerbread recipes, decorated by hand.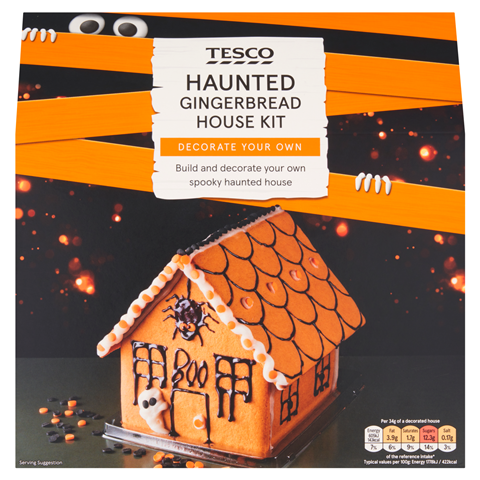 Haunted House Kit, Tesco
Tesco is giving families an opportunity to get creative this Halloween with the launch of a Haunted House DYO Kit (rsp: £6) that features black and orange decorations.
It has also resurrected, 'by popular demand', its Halloween Iced Ring Doughnuts (£1.35 for four or £3.45 for 12) that are topped with vibrant icing and green, orange and black coloured sprinkles.
And creeping back onto shelves this year is the Franken Cake (£9), a hand-decorated cake filled with chocolate flavoured frosting, covered in soft icing and adorned with edible decorations.
Other products in the Tesco seasonal range include a selection of Halloween Cupcakes (£1.50 for two or £5 for nine) that includes a mix of chocolate and vanilla flavoured sponge, filled with chocolate and strawberry jam, topped with coloured frosting and sugar decorations.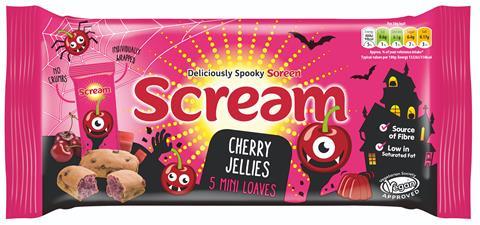 Scream mini loaves, Soreen
Soreen's limited-edition Halloween Scream mini-loaf multipacks have returned to shop shelves in Cherry Jellies and Toffee Apple flavours (rsp: £1.50). Both come in eye-catching themed packaging, containing five mini loaves that weigh in at less than 101 calories each.
"The beauty of these snacks for parents is that they are delicious and treat-like for children, but are HFSS compliant, a great source of fibre and low in saturated fat," says Soreen marketing director Liz Jacobs. "Plus, as they're vegan friendly they can also be enjoyed by those who need to follow a dairy free diet."