The nation's bakers are crafting wickedly delicious things in their cauldrons (mixers) to delight and surprise this Halloween.
From bone-chilling brownies to devilish doughnuts, creepy cakes, and even wicked waffles, there is a host of sweet treats for bakery fans to sink their fangs into.
Here are 10 sweet treats launching for the spooky season: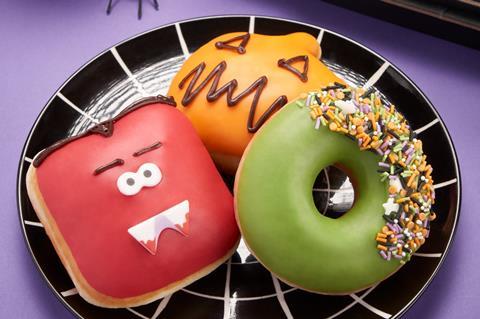 Fright Nights doughnuts, Krispy Kreme
Krispy Kreme has unveiled four eerie-sistible doughnuts for Halloween. Available from 16 October, the range includes:
Pumpkin Patch (from £2.95) – a pumpkin-shaped doughnut with a toffee apple filling, hand-finished with a choice of 10 different pumpkin designs
Bite 'n' Delight (from £2.95) – this vampirical treat has a fang-tastic face on top and a raspberry filling
Spooktacular (from £2.55) – a seasonal take on the popular Original Glazed doughnut, it is dipped in apple-flavoured icing and topped with Halloween sprinkles
Howl-o-ween (from £2.95) – this creation sees an Original Glazed doughnut topped with chocolatey icing in a werewolf design
What's more, Krispy Kreme is offering the Pumpkin Decoration Kit (from £15.95), which sees six of the Pumpkin Patch doughnuts – minus the spooky faces – supplied with dark icing so customers can decorate the treats themselves.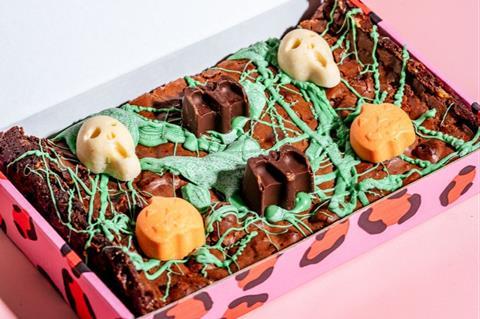 Trick or Treat Brownies, Cake or Death
Vegan bakery Cake or Death is embracing tricks and treats this Halloween as one of the six limited-edition rocky road brownies in each pack has been spiked with chilli for an unexpected kick.
Each fudgy brownie is also packed with vegan marshmallows and digestive biscuits, complete with Halloween-themed chocolate decorations on top. The letterbox-sized boxes cost £19.50 and are available from 16 October on Cake or Death's website.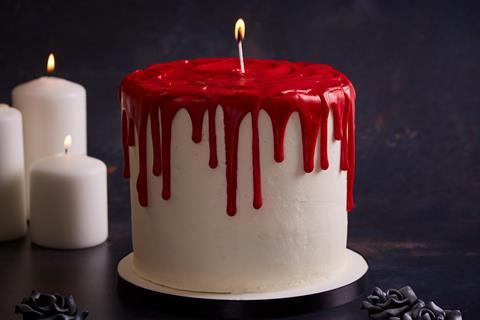 Gory Candle Cake, The Hummingbird Bakery
Who says children get to have all the fun at Halloween? This Gory Candle Cake offers a gore-geous dessert option for grown-up parties. It sees a red velvet cake smothered in cream cheese frosting with dripping 'blood' white chocolate down the sides. To finish the illusion, the cake has a real candle wick on top.
It is one of many sinister sweets on offer at the London-based bakery this fright night. Other additions to the line-up include the Gothic Rose Cake (£80) with black flowers and edible skull decorations, the Frankenstein Cake (£40) – sponge cake with chocolate curls for 'hair' and a handmade sugar paste face on a green vanilla buttercream base – and the Spooky Spiderweb Cake (£58) with a classic orange Halloween base and spiderweb design on top.
Chocolate Whoopie Pies are returning for 2023, albeit with a brand-new Frankenstein-inspired design. The treats, priced at £3.80 each, have a green marshmallow cream cheese centre sandwiched between soft chocolate cake-like cookies.
For an interactive element, The Hummingbird Bakery is also offering Gothic Skull and Spooktacular at home decorating kits, priced at £27.50. They both contain three vanilla and three chocolate cupcakes with Halloween-themed decorations and frosting.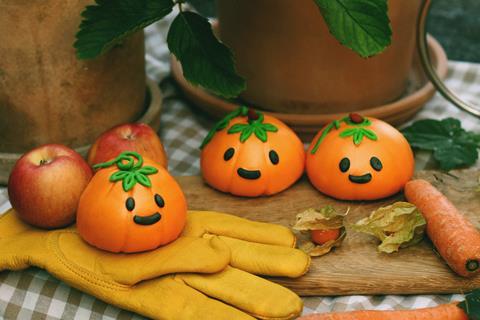 Spiced Pumpkin Buns, Bun House
Cantonese-style steamed bun specialist will be celebrating the spooky season with the return of its limited-edition Halloween steamed buns.
Crafted onsite at its London eatery, the freshly steamed buns will be served piping hot and filled with rich roasted pumpkin cream and seasoned with fragrant star anise, cinnamon and cloves, encased within an irresistibly pillowy and plump pumpkin shell. The buns are priced at £6 each and are available from 23 to 31 October 2023.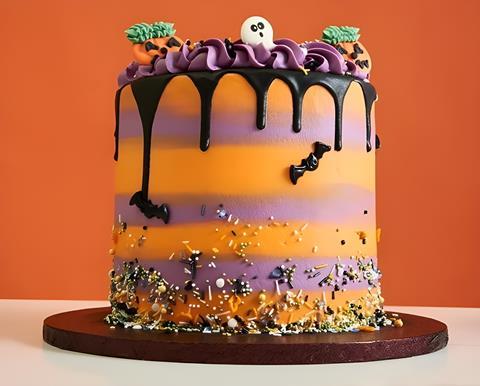 Halloween Fantasy Cake, Lola's Cupcakes
Hosting a monster mash this year? Lola's describes its Halloween Fantasy Cake (£75) as the perfect centrepiece for such occasion.
Customers can choose from a vanilla sponge filled with vanilla buttercream and raspberry compote, or chocolate sponge filled with chocolate buttercream. Both iterations are decorated with orange and mauve buttercream, with black chocolate ganache drip and sugar paste pumpkins and ghosts.
For those looking to offer a spookfest which caters to many dietary requirements, Lola's has also created a gluten-free and vegan Halloween Cake. Chocolate and vanilla options are available, both of which are decorated in natural orange and white buttercream, topped with spooky sprinkles, vegan chocolate witches' hat, and gold dust for added shimmer. The cake costs £42.50 for the seven-inch version and £70 for the nine-inch one.
For something a bit smaller, Lola's has gluten-free and vegan-friendly cupcakes, Halloween cupcakes, and also a Halloween Brownie Box topped with coloured ganache and sugar paste decorations.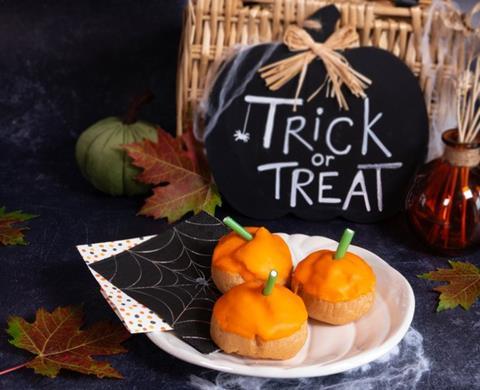 Pumpkin Puffs, Birds Bakery
East Midlands-based Birds Bakery has given its beloved Baby Elephant's Foot a Halloween makeover. The resultant Pumpkin Puffs were designed by a customer as part of the bakery's 'Get Your Bake On' competition last year, and are returning for 2023. The puff is filled with filled with chocolate orange cream, covered with orange icing, and finished with green chocolate on top.
Birds has also unveiled a seasonal Ginger Crush Cake with salted caramel drizzle, Halloween frosted cupcakes, mummy-themed cupcakes, and a Halloween biscuit selection including gingerbread mummies, ghosts, and monsters.
"Halloween is a marker in the calendar that the chillier weather is rolling in, the nights are getting longer and the festive season is just on the horizon," said Lesley Bird, chief operating officer at Birds Bakery. "At Birds, we like to add seasonal twists to our much-loved classics and that is exactly what we've done with this year's Halloween products."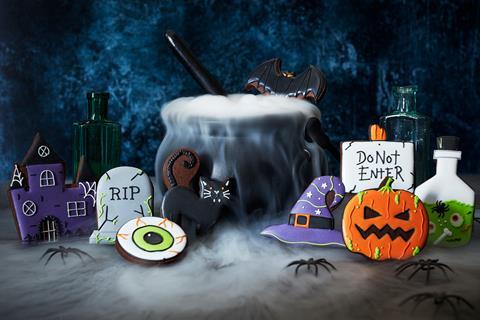 Haunted House Biscuits, Biscuiteers
Mischievous cats, grinning pumpkins, and soaring bats are among the bewitching biscuit designs found in the Haunted House Biscuit Tin by Biscuiteers (£38). There are also witches' hats, gravestones, and eyeballs – all of which have been hand-iced.
Biscuiteers has also whipped up several letterbox designs including Monster Munch – featuring Frankenstein's monster, a mummy, and a vampire – and 'Say Boo' which does exactly as the name suggests, complete with a ghost-shaped biscuit. Both are priced at £25.
For those who enjoy getting creative, the DIY Sugar Skulls Kit offer everything needed to create your own dazzling skull biscuits, all housed in an illustrated tin.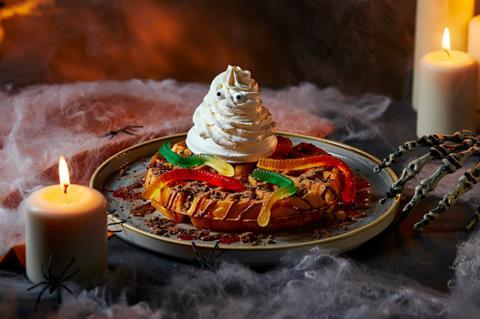 Ghoulish Graveyard Waffle, Creams Café
Dare to venture into a graveyard this Halloween… a delicious graveyard made of waffle. The waffle is slathered in strawberry and milk chocolate sauce, covered with dark chocolate 'dirt' and jelly 'worms', and is finished with a meringue and vanilla soft serve 'ghost' with googly candy eyes.
The waffle is priced at £8.45 and available for dine-in, takeaway, and delivery at Creams Cafes nationwide from 3 October through to Halloween.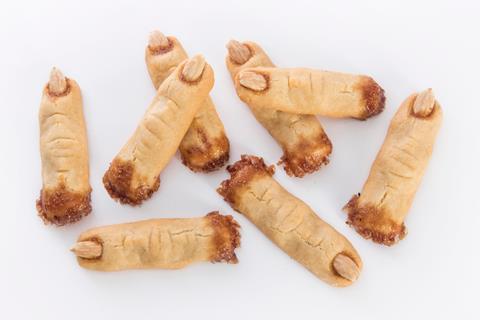 Monster Fingers, Gail's Bakery
Monster Fingers are clawing their way back to Gail's Bakery for Halloween this year. The treats are made from soft almond macaroons and are decorated with blanched almonds and raspberry jam for a gory touch.
Gail's is also bringing back its Speculoos Skeleton Biscuit, which sees a spiced biscuit with hand-iced skeleton design on top. Both biscuits are priced at £3 each.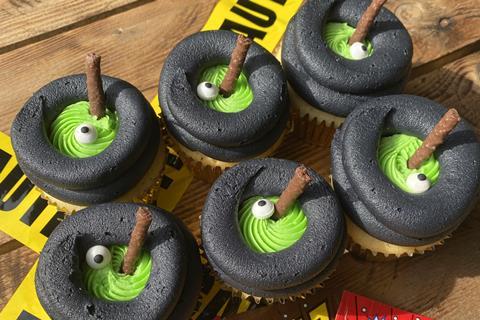 Cauldron Cupcakes, Candy's Cupcakes
Double, double toil and trouble… these Cauldron Cupcakes are perfect for witches looking to stir up some magic potions this Halloween. The cupcakes feature a monster potion with sugar eyeballs and a chocolate orange Matchmaker stirrer, plus popping candy to sprinkle on top.
The bakery, based in Greater Manchester, also has Frighteningly Delicious Cupcakes for 31 October. They are crowned with black vanilla buttercream, golden chocolate skulls, and spooky sprinkles.
The cupcakes can be ordered from Candy Cupcakes' website in boxes of six to 48.
Rounding off the selection is the Trick or Treat Box which includes a chocolate cake jar with chocolatey buttercream and sparkling pumpkins, brain cupcakes spattered with 'blood', a Frankenstein-inspired doughnut and purple monster brownie with creamy frosting and googly eyes.