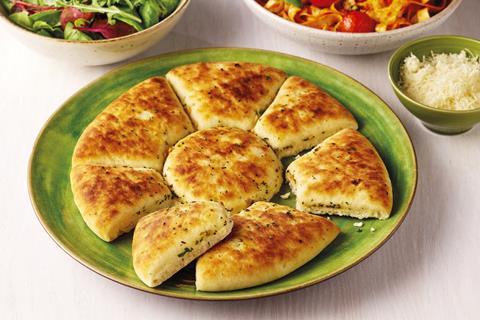 Pies, flatbreads, wraps, and crackers feature in the raft of new savoury products recently unveiled by bakery suppliers.
International influences and classic British flavour combinations are being showcased in the selection, with a doner kebab pie among the line-up.
There's also a surpring pink pizza creation being rolled out, although it should be noted that its part of a charity fundraising campaign not yet another Barbie movie marketing ploy.
We've previous covered savoury NPD launching at retailer and foodservice outlets this autumn. Now let's look at the latest round-up of fresh new products making an appearance on the bakery scene:

Trio of pies, Pukka
The family-run Leicestershire pie brand says it is already contributing over £13m worth of growth to the savoury pastries sector (as per IRI data to 9 July 2023) and is kicking off the autumnal "pie-eating season" with three new recipes comprising familiar flavour combinations.
The new Doner Kebab Pie (rsp £1.99) follows in the footsteps of last year's pair of takeaway-inspired limited editions from Pukka. Another individual portion pie being launched is the Cheese & Bacon Pie (£1.99), while Pukka's Just For Two range – 539g pies to share – is being extended with the introduction of the Chicken & Chorizo variant (£3.49).
The new pie trio come as Pukka posted another strong year of sales. The brand is said to be growing over twice as fast as the market at +23% with a retail sales value total of over £70m.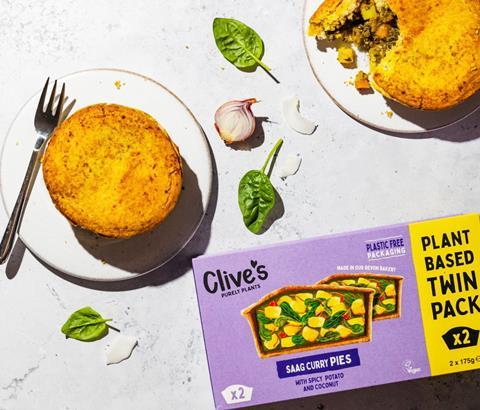 Chestnut Mushroom and Saag Curry Pies, Clive's Purely Plants
Plant-based brand Clive's has launched a pair of new twin-pack pie variants into the freezers of Asda stores. The Chestnut Mushroom Pies come with a creamy tarragon sauce, while the Saag Curry Pies comprises spicy potato and coconut. Both are priced at £3.95 for the twin-pack of 175g pies, which comes in 100% recyclable packaging.
Clive's said it is looking to accommodate shoppers' demand for enticing meal options and plant-based alternatives in the frozen sections of supermarkets. The Dartmouth company points to a 2.6% increase in volumes of frozen prepared foods, as indicated in Kantar data reported earlier this year.
"We wanted to create something that would be a great family meal centre, straight from your freezer, without compromising on quality, perfect for two people, no matter how big or small," said Clive's NPD manager Craig Blackborough.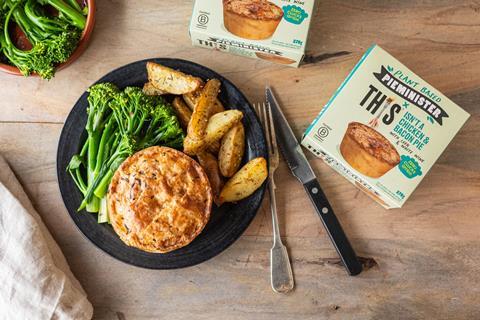 This Isn't A Chicken & Bacon Pie, Pieminister
Premium pie makers Pieminister has teamed up with plant-based food brand This to create a vegan version of a British favourite. Sold as individual 270g pies for £4.70 each, they'll be appearing in the chilled aisles of Sainsbury's and Waitrose branches nationwide and via Ocado.
"This is the first time we have created a co-branded pie and we're delighted to showcase This on our distinctive pie boxes," said Pieminister co-founder Jon Simon. "As a fellow B Corp, they share our high standards of social and environmental impact, and in line with our Pies, Planet, People goals, all the ingredients are selected for their environmental credentials as well as for quality and taste."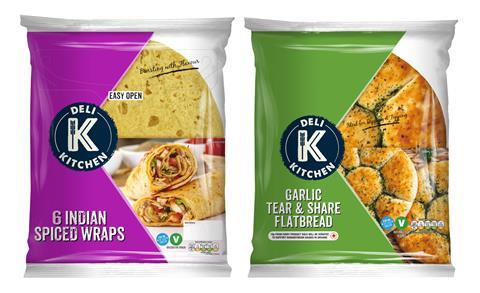 Tear & Share Flatbread and Indian Spiced Wraps, Deli Kitchen
Deli Kitchen is expanding its range with two new bakery items inspired by international cuisines – Indian Spiced Wraps (rsp: £1.60 for pack of six) and Garlic Tear & Share Flatbread (£2.20) – with both launching in Tesco stores nationwide this month. The latter product is said to pay homage to the Ukrainian Pampushka bread, with 10p donated to the Ukrainian Red Cross for every packet sold.
The Deli Kitchen brand is owned by Signature Flatbreads, one of the finalists in the running for Bakery Manufacturer of the Year at the upcoming Baking Industry Awards 2023. The supplier noted that its new products are joining the high-flying flatbread market, said to be valued at £39m, and the equally booming bakery wraps category worth £144m, referencing Nielsen data from 2021.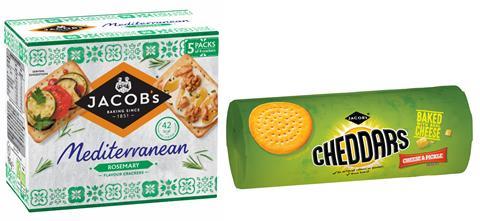 Cheese & Pickle Cheddars and Rosemary Mediterranean Crackers, Jacob's
The Pladis-owned cracker brand is aiming to attract under-35s into the category with two new products. The Jabob's Cheddars range – which has already posted a year-to-date sales rise of 43.1% – welcomes Cheese & Pickle flavour, to be sold in 150g packs (rsp: £1.25) at Asda and Morrisons stores from next month.
Meanwhile, the Rosemary Mediterranean crackers joins the brand's existing Pinch of Salt variant. These come in five packs of four, individually wrapped crackers (rsp: £1.99), initially launching at Asda this month before a wider rollout.
Pladis UK&I marketing director Asli Akman noted that 28% of sales were coming from new savoury biscuit shoppers, citing data from the Retailer Insight Platform 2023 report. "There is a clear opportunity to recruit new fans and we are confident that these two new additions to our range – one offering a tasty new take on a classic combination and another that taps into a popular flavour trend – are a great way to appeal to a new generation of shoppers," added Akman.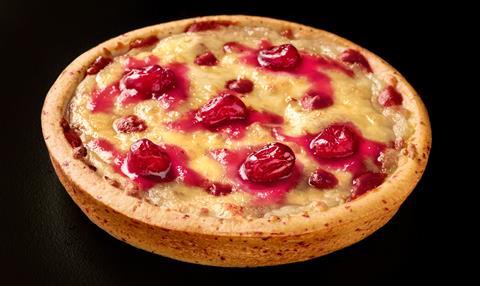 Special Pink Edition Deep Dish Pizza, Chicago Town
Frozen pizza brand Chicago Town is adding a Cheese and Cranberry flavoured version to its popular Deep Dish: The Ultimate One range. The new and unique offering combines a pink flecked cranberry crust with toppings of mozzarella, signature cranberry sauce and whole cranberries.
Available for a limited time only at Asda stores, 10% of each £3.05 pizza sold will go towards the retailer's Tickled Pink campaign, which is raising money for two Breast Cancer charities – Coppafeel and Breast Cancer Now.