Toasties, wraps, subs, muffins, and cakes are some of the hot new bakery items featured in recently launched autumn menus at Greggs, Pret A Manger, and Starbucks.
The likes of Veg Bhaji Flatbread, Chipotle Chicken & Feta Hot Ciabatta, and Chicken & N'Duja Melt Panini offer up warming companions to the customary pumpkin spiced latte, which is marking the 20th anniversary of when it was first served in US coffee shops.
Cake Pops have also crossed the pond this year following success for Starbucks in America, while Pret has made some "flavourful twists to familiar favourites" as part of the biggest expansion of its hot food counter since 2019, and Greggs is stocking some spicy delights.
We take a pitchfork through the seasonal bakery offerings set to light a bonfire under tastebuds this autumn: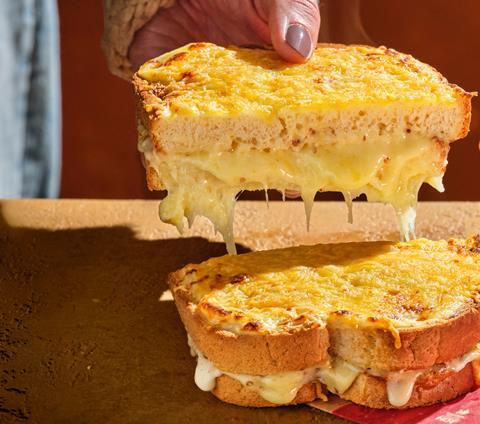 Greggs
The bakery chain gives a nod to classic UK comfort food with its Cheese & Honey Mustard Toastie (rsp from £3), which comprises Cheddar cheese and honey mustard mayo in white bread, topped with creamy bechamel sauce.
Indian cuisine is embraced, meanwhile, with the Veg Bhaji Flatbread (from £3.40) – featuring bhajis, red onion, mango chutney and tandoori mayo in a soft folded flatbread – and the Spicy Chicken & Veg Bhaji Baguette (from £3.70), packed with the same ingredients plus Mexican-style chicken and Cheddar cheese.
The heat is turned up with the Hot & Spicy Veg Pizza (rectangular slices from £2.65), made with a focaccia base and topped with cheese, tomato, peppers, red onion, and jalapenos.
Aside from the food, Greggs has partnered with The AJ Bell Great Run Series for the fourth straight year to provide lunches to volunteers (5,000 meals in 2023 alone).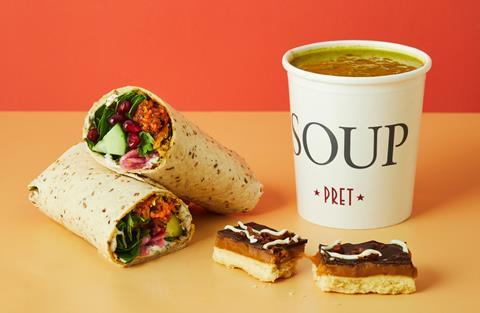 Pret
Katherine Bagshawe, Pret's UK Food & Coffee Director, said the company has been hard at work for the past year developing "plenty of delicious newness", with no less than 19 baked goods launching on its autumn menu.
There's a trio of hot ciabattas – BBQ Pulled Pork & Pickles, Chipotle Chicken & Feta, and Meatless Meatball Marinara – as well as Harissa Haloumi & Falafel in a ciabatta roll.
A quartet of toastie varieties made with seeded bloomer bread options include All-Day Breakfast (sausage, bacon, tomatoes, Grevé cheese, and egg mayo), Veggie All-Day Breakfast (Grevé cheese, tofu eggless mayo, roasted mushrooms, tomatoes, shiitake, and chestnut rashers), Onion Bhaji Melt (bhajis, cheese, tandoori mayo, mango chutney, coriander and spring onions), and Creamy Mushroom (soft cheese, Italian mature cheese, roasted mushroom, spring onion, parsley and rocket).
Wraps are a carrier continuing to cover larger shares of the sandwich market. Pret uses its kibbled rye wrap in five new options: the Italian Style Chicken & Basil Hot Wrap, the vegetarian BBQ Beans Burrito, the Fajita Style Chicken & Avo Wrap, the Tandoori Onion Bhaji Salad Wrap, and the Avo & Herb Salad Wrap.
Rounding off the savoury selection are the Beef & Horseradish Baguette, the Brie, Bacon & Caramelised Onion Baguette, and the Veggie NY Deli Rye Roll.
Sweet treats include the Caramel Shortbread (made with salted caramel and topped with toffee pieces and white chocolate drizzle), Gluten Free Lemon Fridge Cake (made with polenta flour and almonds), and Carrot Cake Fridge Cake (made with walnuts and coconut and topped with cream cheese icing).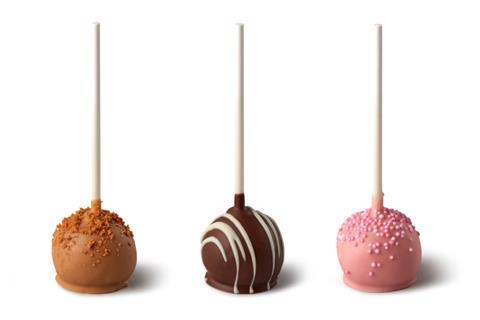 Starbucks
Brand new, tasty bites have been unveiled by the coffee chain aiming to "enhance your autumn vibes". The savoury offerings are all edging the spicy end of the scale, while the sweet treats are appropriately spiced in combination with seasonal fruits – with Cake Pops making their debut too.
Included in the line-up is the Katsu Chicken Sub Roll (from £4.5), said to be an al-desko take on the fashionable Japanese curry flavour and featuring crispy breaded chicken goujons with a spicy katsu mayo blend, pickled coleslaw, spinach leaves and coriander in a white sub roll.
Maintaining the heat is the Chicken & N'Duja Melt Panini (from £5.15), comprising sliced chicken breast, spicy Nduja bechamel and cheese blend, roast peppers, Cheddar and fresh rocket inside a chilli and herb-infused ciabatta.
A new Sweet Potato & Pumpkin Seed Fritter Wrap (from £4) includes chilli, sweet potato houmous, pickled slaw, and spinach in a tomato wrap. Making its return is the Fiery No'Chicken Wrap (from £4.20), containing seasoned soya pieces, spicy firecracker sauce, vegan mayonnaise, a coconut alternative to mozzarella, red pepper, spring onion, and spinach in a tortilla wrap.
Switching to sweet now, the Toffee Apple Muffin (from £2.80) and Pumpkin Spice Cookie (from £2.50) are both coming back to menus, while other dessert newcomers include the Chocolate Brownie (from £2.50) – featuring marbled pumpkin flavoured icing – the Pumpkin Marble Loaf Cake (from £2.90), and the Lemon & Poppyseed Muffin (from £2.65).
Following what the company described as a "roaring success in the US", Cake Pops are landing in the UK in three flavours: Caramelised Biscuit, Chocolate and Birthday Cake (from £2.40 each).
The Caramelised Biscuit Cake Pop is made up of vanilla flavour cake, caramelised biscuit pieces, and caramel spiced frosting, dipped in caramel gold chocolate and finished with a crunchy biscuit crumb. The Chocolate Cake Pop has various chocolates for it cake, frosting, dipping, and drizzle. And lastly, the Birthday Cake Pop comprises vanilla flavour cake and strawberry flavour frosting, dipped in strawberry flavour chocolate with pink sprinkles.