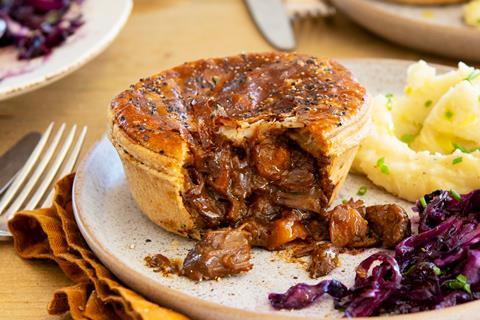 Bakery brands have rolled out their latest savoury creations including pastries, rolls, pies, quiches, tarts and pizza.
Retail brands and foodservice operators have developed products tapping trends in savoury tastes, from smoky flavours to Mediterranean-inspired recipes.
And don't forget you can also browse back through our previous round-up of savoury NPD, as well as the selections of sweet treats that brightened up the summer season.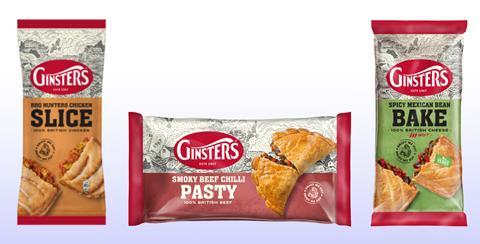 Trio of Pastries, Ginsters
Savoury pastry specialist Ginsters said its research demonstrated a rise of between 17% and 22% in Mexican and Modern British flavour profiles, inspiring three additions to its food-to-go product range.
The BBQ Hunters Chicken Slice (rsp £1.95/170g) has chicken, streaky bacon, smoky BBQ sauce, and West Country cheese, wrapped in light puff pastry. The Smoky Beef Chilli Pasty (rsp £1.95/180g) features beef, potato, black turtle beans, kidney beans, onion, tomato, red peppers, garlic, oak-smoked sea salt, and a hint of chilli, wrapped in a light puff pastry.
Meanwhile, the Mexican Bean Bake (rsp £1.50/117g) is suitable for vegetarians, comprising black and red kidney beans, spiced tomato sauce, peppers, smoked cheese, and a hint of coriander, wrapped in light puff pastry.
The bakes will be available in retail stores from 11 September, while the slices and pasties will hit shelves from 25 September. The launches come a few weeks after Ginsters revamped the packaging across its entire portfolio.
Vegan Jumbo Roll, Wall's Pastry
This relaunch of one of the brand's bestselling products features a new recipe developed after a year-long research project to "create Wall's' tastiest and most authentic match to a meat sausage roll yet".
A series of independent studies were said to have found consumers rated the new vegan roll as better than the previous version in appearance, filling, texture and flavour.
The reformulated recipe includes a combination of textured pea protein and cooked giant cous cous, along with sautéed onions, herbs, and spices. Packaging has also been given a makeover, with a vibrant, green design. Priced at £1.25 each, the Vegan Jumbo Rolls are available at Asda, Tesco and convenience stores, with new formats such as a four-pack launching in the coming months.
Wall's Pastry, which is part of The Compleat Food Group, relaunched its entire range of Pork Sausage Rolls back in June.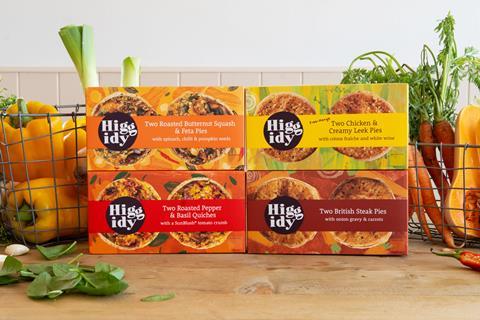 Frozen Pies and Quiche, Higgidy
Higgidy is making its frozen debut with three new pies plus a quiche launching in Waitrose stores from 18 September. Coming in twin-packs, the products can be baked straight from the freezer for 30-35 minutes.
The Roasted Butternut Squash & Feta Pies (rsp £5.95/2x200g) contain feta, chilli & cumin-roasted squash, and spinach, encased in seeded spelt shortcrust pastry with pumpkin seed crumb. For meat-lovers, there's the Chicken & Creamy Leek Pies (rsp £5.95/2x200g) made with free-range chicken, sautéed leeks, white wine, crème fraiche, and Dijon mustard, packed into seeded spelt shortcrust pastry, with a puff pastry lid and thyme sprinkle. The British Steak Pie (rsp £5.95/2x200g) has slow-cooked steak with onion gravy inside seeded spelt shortcrust pastry, with a puff pastry lid and cracked black pepper sprinkle.
Meanwhile, the Two Roasted Pepper & Basil Quiches (rsp £5/2x200g) are made by filling seeded spelt shortcrust pastry with creamy bechamel and free-range egg, Emmental, slow-roasted SunBlush tomatoes, red pepper tapenade, spinach, and basil, hand-finished with red and yellow peppers and a SunBlush tomato crumb.
Higgidy unveiled two new quiches in April, along with other NPD.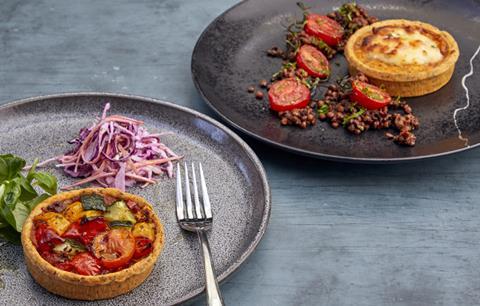 Tomato, Goat's Cheese and Basil Tart, Menuserve
Frozen food distributor Menuserve, which is owned by Central Foods, has unveiled a new tart for the foodservice sector, while also updating its existing Mediterranean vegetable tart.
The former is suitable for vegetarians, with a cheese and basil quiche-style filling, sun-dried tomatoes in a herb-flecked pastry case, topped with a slice of goat's cheese. The latter is vegan-friendly and features a chunky tomato, aubergine, courgette and mixed peppers filling on tomato sauce in a herb-flecked pastry case.
With a four-inch diameter and weighing in at around 160g each, the pies are sold frozen in cases of 12 and just need baking off before serving.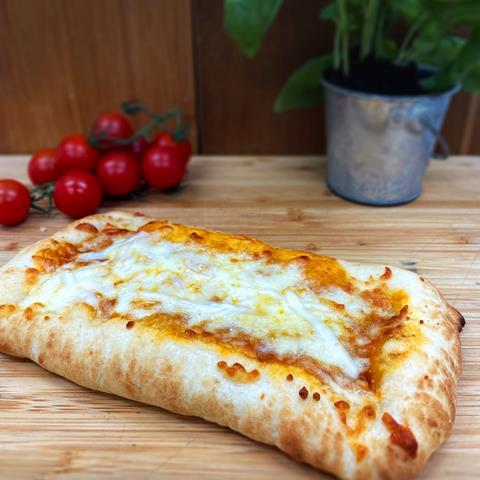 Mini Pizza Pala Margherita, Pan'Artisan
Foodservice dough specialist Pan'Artisan is tapping demand for authentic, convenient food-to-go with the latest addition to its premium bakery range.
The single-portion rectangular Mini Pizza Pala Margherita (22cm by 10cm) is stone-baked and topped with Italian tomato sauce and a blend of mozzarella and cheddar cheese. Operators can customise them with additional toppings to extend their choices, noted the supplier.
Available frozen in cases of 42 units, the pizza is designed to be fully thawed and then baked in a 200-220°C oven for around seven minutes.