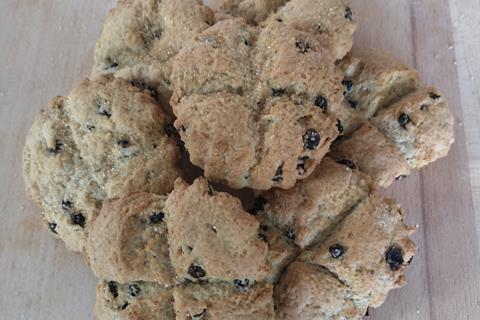 Family business Stacey's Bakery has revived classic comfort food soul cakes ahead of Halloween.
The limited-edition round cakes feature allspice, nutmeg, cinnamon and ginger with raisins and currants and are marked with a cross before baking which traditionally signified that they were given as a mark of charity.
They're an old English cake, sometimes known simply as souls, which were given out on Halloween to children who went door to door saying prayers for the dead – a tradition that dates back to the middle ages and continued into the 1930s, according to Stacey's.
Stacey's Bakery has previously resurrected forgotten bakes, adding Thor cakes to its menu in 2016. They're made with oatmeal, ginger and black treacle and were traditionally baked in Derbyshire communities on 5 November.
Director David Stacey said the Thor cakes were an incredible success, with 2,500 sold in a week. He added that he hoped local cake lovers would also get on board with the new soul cakes.
"The soul cakes are something a little bit different," said Stacey, who added that the warmth from the spices, such as nutmeg and cinnamon, make them ideal for the colder months.
"What people normally do at Halloween is go and buy a multipack of sweets, but I wouldn't imagine that trick or treating will be something that many people will be doing this year, given the pandemic. Soul cakes are going to be a little something for people to enjoy throughout the week of Halloween and throughout autumn," he said.
Bakeries across Britain are gearing up for Halloween with new products being launched and preparations underway for a socially-distanced spooky season.