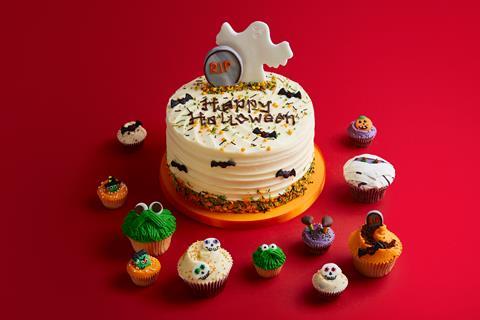 Bakeries and cake brands are gearing up for the spooky season with a host of ghoulish creations for Halloween.
Mr Kipling, McVitie's and Hummingbird Bakery are among those to reveal their tricks and treats, which include spooky cupcakes, creepy cake bars and fang-tastic tarts.
Due to social distancing, celebrations may be a bit different this year but bakeries are still keen to show customers they scare with many still planning to embrace the spookiness.
Here's our pick of the latest Halloween bakery NPD: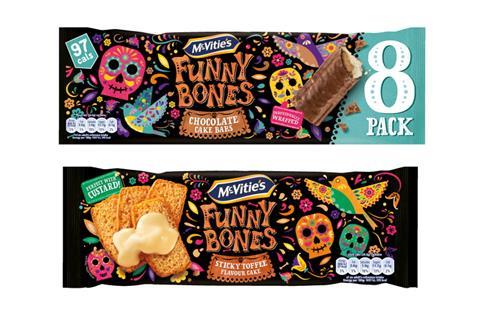 Pladis
Pladis-owned McVitie's has rolled out a limited-edition Halloween range, encouraging customers to have 'A Dead Good Night In'.
The new range comprises Jaffa Cakes Zesty Orangey Cake Bars; Jaffa Cakes Fruity Blackcurrant Cake Bars; Digestives Cinder Toffee Flavour Slices; Funny Bones Chocolate Cake Bars; and, Funny Bones Sticky Toffee Flavour Cake. They're available for an rsp of £1 each.
Its Halloween range is rolling out this week across Tesco, Sainsbury's, Asda and Morrisons.
"This year the seasonal sales opportunity for cakes is bigger than ever. Halloween celebrations are likely to take a different form, with many shoppers swapping parties and trick or treating for watching scary movies or hosting smaller gatherings at home," said Claire Hooper, head of marketing – cake at Pladis UK&I.
"Cakes are perfectly suited to these at-home occasions, so this presents a unique opportunity for retailers to boost sales in the cake category – and give shoppers a reason to celebrate."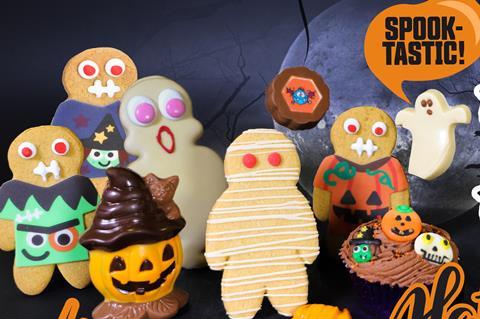 Birds Bakery
Derby-based Birds Bakery is set to launch its new Halloween range, available in-store from 28 September.
Spicy bakes come in the form of its Gingerbread Ghost (£1.80), Gingerbread Mummy (£1.35) and Gingerbread Monster (£1.35).
The range also features a Shortbread Ghost (£1.45/pack of two) and chocolate Halloween Cupcake with a pumpkin, witch and skull design (£1.40).
"We are delighted to be releasing our new Halloween products over the coming weeks. We are always excited about seasonal dates as it gives us a chance to be creative and come up with something new," said Mike Holling, sales and marketing director at Birds Bakery.
"We have designed all our Halloween products to suit different tastes, from our simple Plain Chocolate Bat to our Gingerbread Ghost, with prices starting from 70p. Products can also be purchased as single items or in packs of two or three and we have also created a Vegan Gingerbread Ghost to suit those with dietary requirements. A selection of Halloween products will also be available through the Birds home delivery service, for those who are not able to visit us in store."
Its Halloween bakes will roll out across its 60 branches in the Midlands.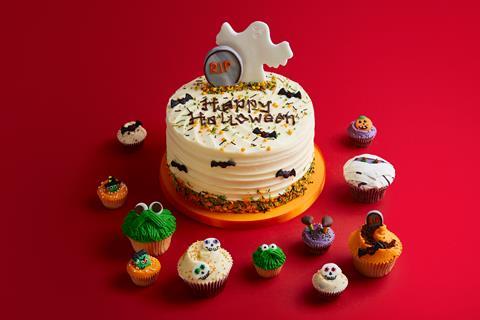 Hummingbird Bakery
London-based Hummingbird Bakery has unveiled whole cakes, cupcakes and pumpkin pie, as well as cupcake and mini cupcake boxes for the occasion.
There's the Halloween Piñata Cake – which features a chocolate and orange vanilla sponge, orange vanilla frosting and multi-coloured vampire bat sprinkles – and a Halloween Red Velvet Cake with red velvet sponge, cream cheese frosting and a haunted house design.
It has also whipped up the Halloween Chocolate Cake with chocolate sponge, chocolate frosting and a ghost design. For something less spooky, there are Halloween Cupcakes in chocolate, vanilla and red velvet flavours.
Hummingbird's Halloween range will be available from 1-31 October, with pre-ordering available online from 30 September.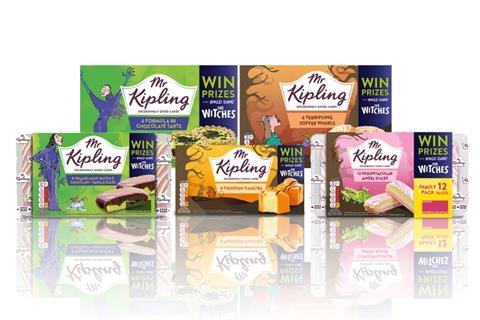 Mr Kipling
Premier Foods-owned Mr Kipling has extended its annual Roald Dahl-inspired summer range with a limited-edition Halloween range.
Playing homage to the terrifying story of The Witches by the children's author, the range features two limited-edition products, Grand High Witch's Chocolate & Vanilla Slices and Formula 86 Chocolate Tarts.
"Despite the challenges we have all faced during the ongoing Covid-19 pandemic, consumers are still keen to engage with seasonal occasions over the coming months, as they look for opportunities to create positive experiences at home," said Matthew Bird, brand director for sweet treats at Premier Foods.
The new products, available for an rsp of £1.50, will join returning products including Terrifying Toffee Whirls, Fiendish Fancies and Spooktacular Angel Slices.