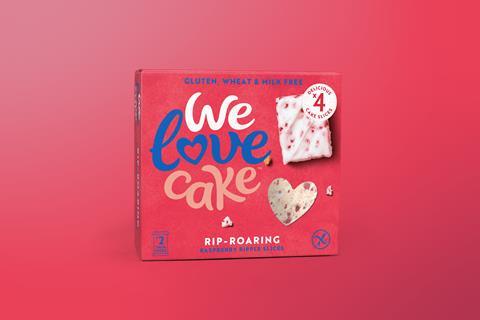 Bells of Lazonby is extending its We Love Cake range with two nostalgia-inspired bakes.
The new additions, which are debuting in Morrisons, are Rip Roaring Raspberry Ripple Slices and Totally Toffee Sticky Toffee Slices. Both are gluten-, wheat, and milk-free and have an rsp of £1.80 per four-pack with an introductory price of £1.50.
We Love Cake was launched in Australia in 2018 and was given a refresh in 2019 with lower-sugar recipes and a new look. The Cumbrian bakery said the brand achieved sales of $1.4M AUD over the last 52 weeks with Australian retailer Coles.
Following its growth there, the family bakery is now moving its focus to UK multiples.
"Nostalgia is one of this year's biggest food trends across multiple markets. Interestingly, in the UK we see craving for these comforting flavours and products amplified by times of uncertainty," said Josh Boydell-Smith, head of brand and marketing at We Love Cake.
The hand-finished cakes come in multi-packs of four. Its slices are packaged in twin-packs to maintain freshness without losing its small batch quality, it added.
"This winter our focus is on taking the joy and brand loyalty we have created in foodservice and applying it to major multiple retail with Morrisons. Totally Toffee and Rip-Roaring Raspberry tap into shoppers seeking hyper-indulgence and great taste in the gluten-free space."
The cakes are registered with Coeliac UK and are suitable for those with coeliac disease. They are made in its We Love Cake bakery in Lazonby on the edge of the Lake District, Cumbria.