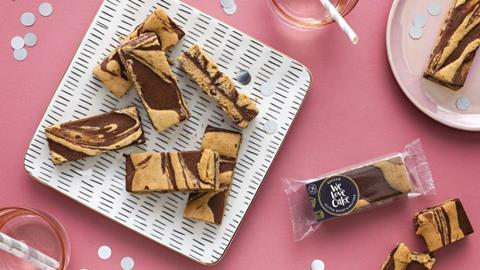 Bells of Lazonby has relaunched its free-from We Love Cake range with lower-sugar recipes and a new look.
Sugar has been cut by up to 38% compared to the existing recipes in a nine-month reformulation project that has enabled the range to hit Public Health England 2020 sugar targets.
"In reducing sugar, we found that some of the lines scored higher in taste tests due to the reduction of sweetness, which had in the past hidden the natural flavour of the inclusions, such as nuts, fruits and seeds," said We Love Cake marketing manager Emily Sudell.
The revamp comes seven years after the brand was first rolled out, and follows consumer research by Bells of Lazonby that identified three major trends: sugar reduction, continued growth of the lifestyle free-from consumer and increased on-the-go eating.
"This insight has driven the project forward to future-proof our brand for the next five years," explained Bells of Lazonby managing director Michael Bell.
The brand logo has been revamped to incorporate 'Baking since 1946', and the fact the products are free from gluten, wheat and milk. It is hoped the new look will appeal more to lifestyle customers, who make up around 70% of the free-from market.
To make the range more suitable for the on-the-go sector, the cake slices have been made longer and are now served in shelf-ready packaging. And, to tap interest in hybrid bakery products, the company has created a created a brownie/cookie hybrid called the Brookie.