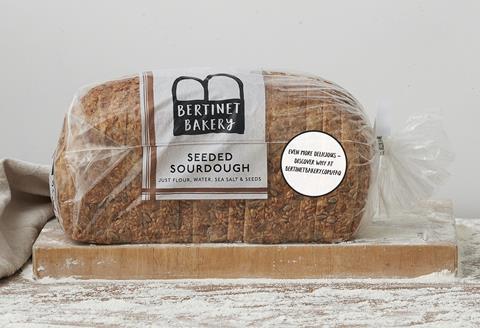 Bertinet Bakery has unveiled what it claims to be a category first in the form of 'fresher for longer' artisan sliced sourdough loaves.
Its six-strong range has been reformulated to offer a softer, 'sandwich-friendly' texture that has a shelf life of five days without the need for additives or shelf-life-enhancing preservatives.
The sourdoughs – available in seeded, white and malted wheat variants – have been crafted using what Bertinet Bakery describes as 'revolutionary new bakery methods' using just flour, water, sea salt and seeds. The loaves take between 10 and 12 hours to make from starter to oven.
The bakery told British Baker it has combined "age-old baking methods with ground-breaking scientific research" to create the loaves, studying the interaction between the yeast and PH levels at different temperatures within the fermentation of the sourdough.
"Through lots of trial and error we have found the optimum balance of all the elements in the fermentation process to naturally enhance the shelf life of Bertinet Bakery Sourdough, as well as enabling more variation within the bacteria and breaking down gluten, complex carbohydrates and phytic acids – all essential in maintaining a healthy gut," it added.
In addition, it said it has utilised a technique that became popular in Japanese and French breads in the 1990s using methods to hold more moisture in the dough which promotes a softer texture without any additional ingredients.
The range will launch nationally across Waitrose, Ocado and Milk & More with the Seeded Sliced Sourdough in 1.1kg (rsp: £3.95) and 550g (rsp: £2.25), followed by the roll out of White and Malted Wheat variants in 1kg (rsp: £3.50) and 500g (rsp: £1.95) formats.
Managing director Dean Arbel said the launch was "an exciting landmark for the category".
"Our sourdough supports a naturally improved gut health microbiome, which results in a better digestive health. Consumers are much more educated about bread now and due to Covid-19, there is a stronger appreciation for provenance, baking methods, quality of ingredients," he said.
"Shoppers are turning away from artificial preservatives that give unnatural length of shelf life. At Bertinet Bakery, we are passionate about a clean, natural and more honest bread that offers real health benefits – but let's not forget – importantly delicious taste."
The loaves are produced at Bertinet's site in Hendon, north London. The company also has a small production unit in Bath that delivers products locally and to its retail store in the city.