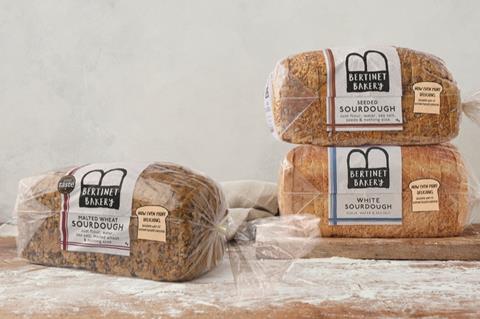 Bertinet Bakery has secured a nationwide Sainsbury's listing for its sliced loaves.
The sourdough bread brand's next generation White, Malted Wheat and Seeded Sliced varieties will be rolled out in 500g format across the retail giant's stores from 30 June.
The launch, under Sainsbury's Future Brands programme for 'disruptor' products, is part of Bertinet Bakery's strategy to offer all-natural sourdough to mainstream consumers in an accessible format, the company said.
The sliced loaves are made with just flour, water and sea salt. According to Bertinet Bakery, the sourdough fermentation process has been optimised to enhance prebiotic benefits and Japanese-inspired baking methods soften the texture and extend shelf-life.
As well as receiving support from the Sainsbury's Future Brands programme, the range will be marketed via a national multichannel campaign including press, digital, social, sampling and PR.
"We are really excited for Bertinet [Bakery] to join the Future Brands programme, offering our customers great quality artisan bread and a differentiated branded offering within bakery," said Rebecca Miller, Sainsbury's Future Brands origination and development manager.
The Sainsbury's listing follows Bertinet Bakery's previous major retail launches into Waitrose and Ocado.
"The success we have seen in Waitrose and Ocado and now launching into Sainsbury's makes us all very proud and is aligned with our vison of making clean healthy sourdough breads more widely accessible and consumed by more people, not only foodies and early adopters," said Dean Arbel, Bertinet Bakery managing director.
"We are excited to work closely with the future brands programme team on this journey," he added.
Bertinet Bakery is part of Bread Holdings, along with Gail's and The Bread Factory. In April, Arbel outlined the company's product strategy in an interview with British Baker editor Amy North.