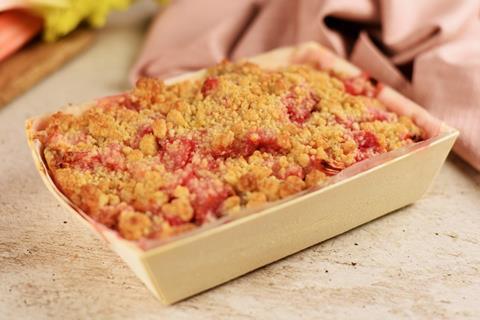 Veganuary may be drawing to a close but that doesn't mean bakeries have taken their foot off the pedal when it comes to vegan-friendly NPD.
From a twist on traditional hot puddings to vegan rolls, buns and more, we look at the latest products to hit the market: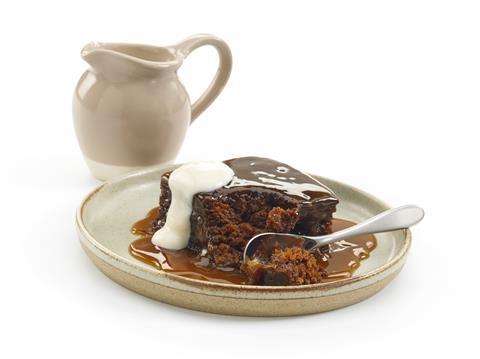 Hot sponge puddings, Brakes
Foodservice supplier Brakes has given a range of traditional desserts a vegan makeover.
The British-made hot puddings include Syrup Sponge Pudding, Raspberry Jam Pudding and Sticky Toffee Pudding. All are pre-cut rather than individually moulded, Brakes said, to achieve a 'more rustic, homemade appearance', and tap into consumer demand for nostalgic and comforting food.
"While we recognise the huge, and increasing, importance of the vegan sector, first and foremost our products must be at least as good as traditional alternatives," said Matt Lake, Brakes' senior product development manager – innovation lead.
"The growth in vegan products has been exponential and it shows no signs of stopping. It's important, particularly in these difficult times, that we help our customers to capitalise on as many opportunities as possible and having a range that exceeds expectations of vegans and non-vegans alike is an important part of that," he added.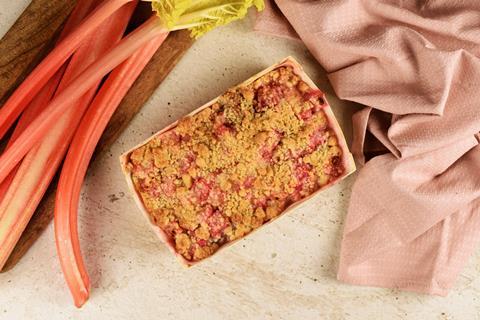 Bread pudding, Crosstown
Crosstown has joined forces with no food waste chef and author Max La Manna to create a bread pudding, handcrafted from leftover vegan sourdough doughnuts and rhubarb.
Called Crosstown x Max La Manna: Bread Pudding (£9.95), the dessert is made by combining vegan sourdough doughnuts with macerated forced rhubarb and an oat milk custard, topped with almond crumble. The part-baked puddings need to be popped in the oven by consumers to finish baking.
For every Bread Pudding sold, Crosstown and Max are donating 15% of the sales to The Felix Project – a charity fighting hunger and food waste across London.
"Since Crosstown began we've always been conscious of our environmental impact, striving toward solutions to better our practices. Working with Max has made us step back and rethink the way in which we tackle doughnut waste, resulting in the Bread Pudding," said Adam Wills, co-founder of Crosstown.
"The bread pudding is the first time Crosstown have created a hot dessert, something we are extremely excited to see being served in the comfort of our customers' homes on these cold, dark winter nights."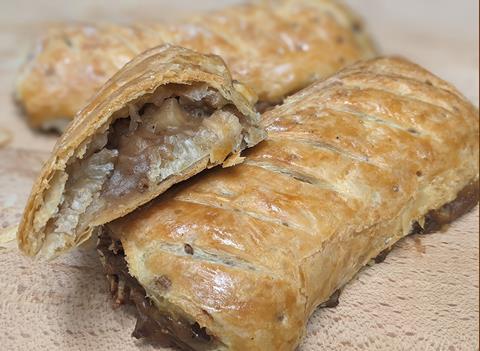 Vegan roll, Stacey's Bakery
Fourth generation family business Stacey's Bakery has added a savoury vegan roll to its menu.
The product, which costs £1.37 and can be bought in branch or online, features flaky vegan-friendly pastry packed with carrots, potatoes, herbs and spices, plus textured vegetable protein and is a take on the bakery's popular beef savoury pastry. It joins other vegan items on the bakery's menu, including a sausage roll which was launched in 2019.
"We wanted to allow everyone to enjoy the Stacey's classic that is our savoury roll, even if they are not meat-eaters," said David Stacey, managing director of the bakery which has branches in in Ilkeston, Eastwood and Heanor. "We want to help broaden the choices that are out there for those people, adding generations of Stacey's expertise, with no compromise on taste."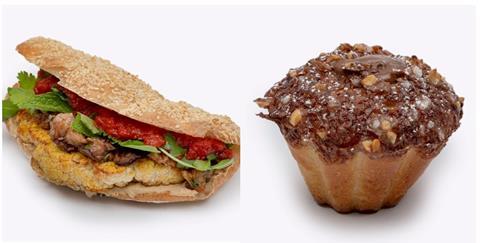 Chocolate & hazelnut bun, Gail's Bakery
Gail's has added a couple of new items to its menu for Veganuary including a Chocolate & Hazelnut bun.
Made with olive oil instead of dairy-based fat, it is described as a 'plant-based take on the perfect doughnut' and is filled with Island Chocolate's Chocolate & Hazelnut Spread. The sticky bun is then topped with caramelized hazelnuts and a crispy cocoa glaze.
Also joining the menu is the Roasted Cauliflower Sandwich which includes a lentil houmous and lemon & aubergine pickle mix. The sandwich also contains Matbucha, a spicy North African red pepper jam, to complement the oven-roasted cauliflower steaks.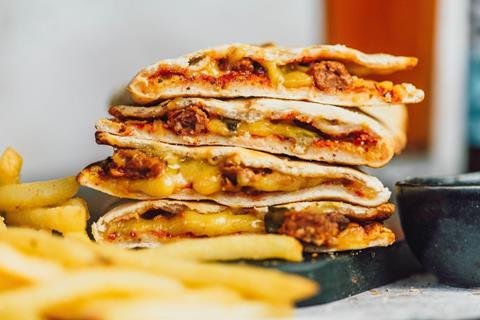 Pizza pockets, One Planet Pizza
One Planet Pizza and Violife have teamed up to make what they claim are the UK's first plant-based pizza pockets.
Described as a 'calzone type snack', the retro pizza pockets are available in three variants – Mediterranean Vegetable, Peppernomi and Cheezeburger. The first two feature a stone-baked base filled with tomato sauce a Violife Epic Mature cheese alternative along with roasted vegetables or jackfruit pepperoni. The Cheezeburger variant, meanwhile, is also filled with caramelised red onion, sliced gherkins, and Meatless Farm burger chunks.
All three have an rsp of £2.99 and are available to buy from One Planet Pizza's website and are delivered frozen across the UK.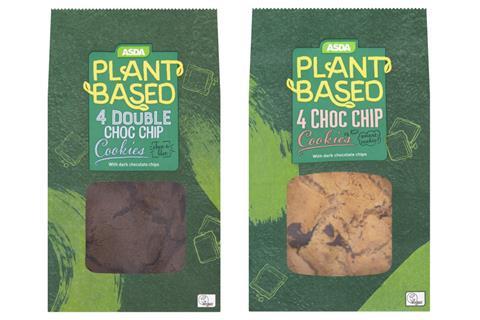 Plant-based cookies, Asda
Supermarket Asda has expanded its vegan portfolio with new Plant Based Choc Chip and Double Choc Chip Cookies.
Available in stores and online, the cookies cost £1.50 for a pack of four and bear The Vegan Society trademark confirming they are free of animal ingredients and have not been tested on animals.
Other items in the retailer's vegan range include a meat-free & gravy puff pastry pie, roasted vegetable & houmouse pizza and meat-free sausage rolls.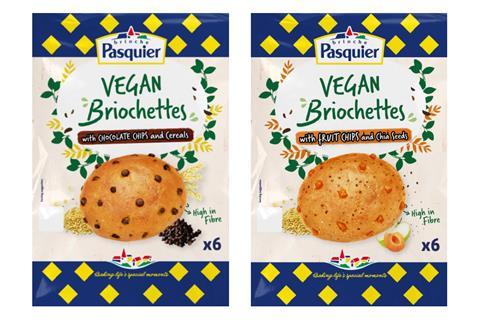 Briochettes, Brioche Pasquier
Brioche Pasquier has launched a duo of brioche buns, known as Briochettes, for Veganuary.
The Briochettes come individually wrapped in recyclable paper bags of six with an rsp of £2 per pack. There are two varieties to choose from: Fruit Chips & Chia Seeds or Chocolate Chip & Cereals.
"Our standard range of brioche products are much enjoyed by vegetarians, but as they contain products like fresh eggs and butter, they are not suitable for vegans," said Charlotte Hulbert, retail sales manager. "We wanted to make sure that vegans could enjoy our products too, and hope that the Briochettes bring a little brioche joy to those who have chosen to cut out animal products in January."