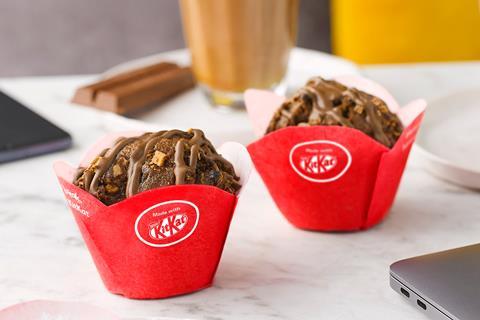 Dawn Foods and Nestlé Professional have signed a long-term co-branding contract covering Europe, Middle East and North Africa.
The partnership will see Dawn Foods create bakery products using Nestlé's confectionery brands, with muffins and cookies first on the agenda.
It's kicking things off with a KitKat muffin which is filled with milk chocolate and topped with bits of KitKat. They come in branded wrappers and will be supported with in-store promotional material.
"Dawn Foods and Nestle Professional have agreed a long-term commitment to co-design new bakery products that carry the essence of the brand by combining state of the art bakery mixes with the best branded ingredients," said Steven Verweij, president, Europe & AMEAP, Dawn Foods.
"The muffin made with KitKat is the result of Dawn Foods' market leadership in American pastry and the strengths of Nestlé's confectionery brands which gives the unique KitKat product taste experience."
The co-branded products will be available in bakery channels, quick service restaurants and other locations across the regions.
Vincent de Clippele, head of Nestlé Professional, Europe, Middle East and North Africa (EMENA), added that the company was delighted to be partnering with Dawn Foods.
"We selected Dawn Foods as our EMENA partner because of the high quality of their bakery products, their capability to convey our brands experiences to the consumers, and their leading position in the sweet bakery industry," he added.
Earlier this week, Speedibake and Burton's Biscuits teamed up to create a range of muffins based on Jammie Dodgers and Maryland Cookies.