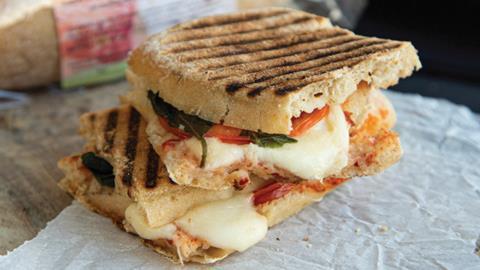 Panini supplier Toastyfresh has teamed up with Delice de France to launch a frozen home delivery service.
The nationwide home delivery service will offer 12 frozen paninis and French-style bakery items.
Its panini boxes comprise four fillings: three ham & cheese; three cheese & onion; three mozzarella, basil & tomato; and three tuna, pepper & onion.
Boxes of sweet treats and premium bread products from Delice de France are also available.
"The quality and convenience of Toastyfresh products has helped drive strong demand from consumer markets across the country," said Toastyfresh sales director Matt Holman.
"As the current climate pushes more people to shop online, now is the time to provide a delicious range of Toastyfresh paninis and Delice de France sweet treat and premium bread products through an extremely reliable frozen home delivery service."
All the products are hygienically boxed and packaged, and distributed via a nationwide fleet of freezer vans. Cross-contamination is minimised and cleaning is more efficient due to the brand's 'Grill in the Bag' technology, said the company.
"In light of today's heightened demand for reliable home delivery services and continuing government restrictions keeping people at home, Toastyfresh is providing the high-quality paninis you would normally be able to purchase from your local coffee shop," Holman added.
To demonstrate its support for NHS workers, Toastyfresh has pledged to donate 10% of its home delivery profits to NHS charities.
Based in Salisbury, Toasty Products supplies its Toastyfresh range of ready-made paninis and pre-filled food products to outlets across the UK.