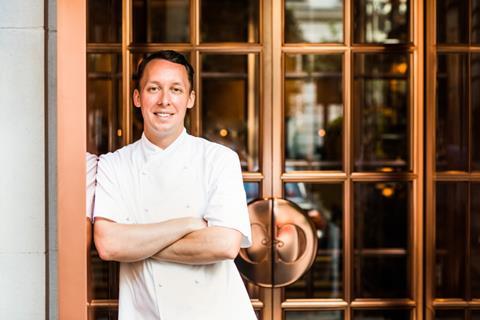 Pork pie firm Dickinson & Morris has joined forces with executive chef Calum Franklin to celebrate the brand's 170 years in business.
Franklin, who is executive head chef at Hoborn Dining Room's Pie Room, will act as a culinary ambassador and work alongside the company's team of chefs to create new pies which are expected to be rolled out to the public later in 2021 and into 2022.
The partnership, according to the firm, will allow it to reflect on what has changed over the years, what has remained 'tried and tested' and what's next.
"Calum is known as the 'Pie King' and this is a great opportunity for us to work with someone who shares our values and passion for creating great tasting pies, using traditional hand-crafted methods," said Guy Coombs, master baker for Dickinson and Morris.
"Calum… specialises in complex, intricately decorated pies with innovative fillings, based on his extensive research into the history of pies and savoury pastry. Working alongside our team of highly skilled development chefs, Calum is helping to craft new techniques and recipes, reflecting the latest food trends but with Melton Mowbray tradition at heart, using the very best quality ingredients."
Franklin added that it was "really exciting to be working with one of the most successful and traditional pie makers in the country". "I'm keen to adapt learnings from my own successes in pie making, by offering a new approach to hand-crafted techniques and flavour innovation."
Dickinson & Morris' pies are made from outdoor-bred British pork shoulder, spices and Brozzi lard from pigs fed on grain, cereal & parmesan whey. The pies are created using the hand raised method, without a supporting tin or hoop, giving what the brand describes as the classic bow-sided shape.
In 2017 its PGI-protected Melton Mowbray Pork Pie was named supreme champion at the British Pie Awards.