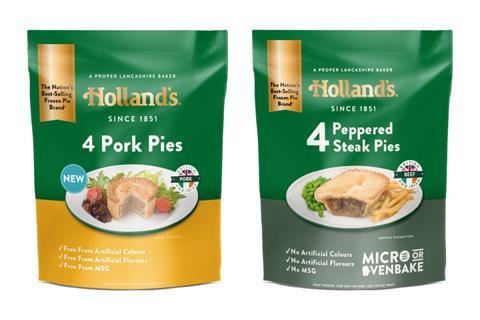 Holland's Pies is marking its 170th anniversary with the launch of two new frozen pies – a Peppered Steak Pie and Pork Pie.
Comprising British and Irish steak with peppercorn sauce in shortcrust pastry, the Peppered Steak Pie brings one of Holland's 'stadium favourites' to retail. They can be heated from frozen in the oven or microwave. The Pork Pie, meanwhile, contains seasoned British pork encased in its signature pork pie pastry. These need to be baked in the oven.
Both have an rsp of £3.20 per pack and contain no preservatives, MSG, artificial colours, flavours, or added hydrogenated fats, according to the brand.
Available in selected Iceland stores now, the two new flavours come in packs of four. The Peppered Steak Pie will also launch in Tesco stores later this month with a wider rollout into supermarkets nationwide planned for both flavours throughout the rest of the year.
"In the chilled retail market, pork pies are worth £228m and yet they're barely represented in the frozen pie sector, therefore showing a real opportunity for Holland's to close the gap with a proper tasty pie of their own," said Leanne Holcroft, brand manager for Holland's Pies.
"Our decision to bring the Peppered Steak Pie to retail was influenced by football fans, who missed the stadium exclusive, due to fixtures being limited during lockdown," she added.
The launch will be supported on social media to drive sales with a marketing and communication campaign over the winter months.