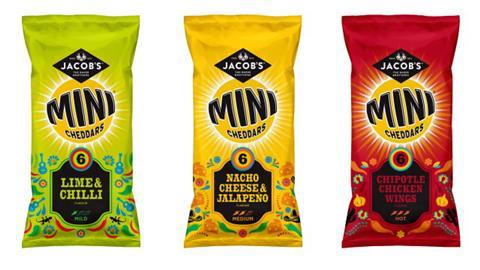 Pladis-owned Jacob's has rolled out three new Mexican-flavoured Mini Cheddars to tap interest in spicy foods.
The £68.4m Jacob's brand (Nielsen data) aims to broaden its appeal among younger consumers with the new flavours: Lime & Chilli, Nacho Cheese & Jalapeño and Chipotle Chicken Wings.
"We're seeing a host of global cuisines making their way into British snacks and, with 41% of consumers aged between 16 and 44 actively seeking spicy foods, it felt only right for Mexico to be the next stop on Mini Cheddars' world trip," said Christopher Owen, marketing controller at Pladis UK&I.
Expanding the brand by launching new flavour variants has had a track record of success, it added.
Jacob's Choose Your Cheese campaign generated over £5m of incremental sales in 2017, and contributed to its position as the UK's second-fastest growing major crisps and snacks brand, added the company.
"We know chilli is an important flavour within the crisps and snacks category, so with this new, spicy take on Jacob's Mini Cheddars, retailers have the opportunity to drive incremental sales by introducing the brand to new shoppers and re-engaging shoppers who may not have bought into the brand for quite some time."
The range consists of multipacks of six individual 25g packs at an rrp of £1.89.
Jacob's Mini Cheddars Mexican flavours will roll out this month across major grocery retailers, including Tesco, Sainsbury's, Asda and Morrisons.