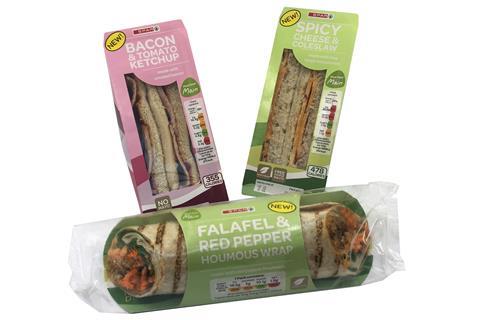 James Hall & Co has revamped its Spar own label sandwich offering with updated packaging and three new products.
The supplier has added Simply Bacon, Mega Breakfast and Mixed Triple, which features a variety of bacon, chicken and ham sandwiches, to its core range.
It is also making a selection of 12 sandwiches available for Spar retailers to order on three-week cycles. Each cycle will include four flavours which will then be replaced with another four once that period is finished. The first wave of flavours will be Simply Chicken & Sweetcorn, Smoked Ham & Egg Sub and Spicy Cheese, Coleslaw & Curried Egg.
"We have refreshed the packaging of 20 Spar brand sandwiches, helping customer favourites to stand out on the shelf, create theatre in-store and complement our existing range of food-to-go items," said Peter Dodding, sales and marketing director, James Hall & Co.
"We are confident that the refreshed packaging will help retailers to maximise their sandwich offering, and present a varied range of traditional favourites and exciting new fusion flavours for customers to enjoy."
The company produces over 21,000 sandwiches a day at its Spar distribution centre in Preston which serves a network of over 600 independent- and company-owned Spar stores in the north of England.