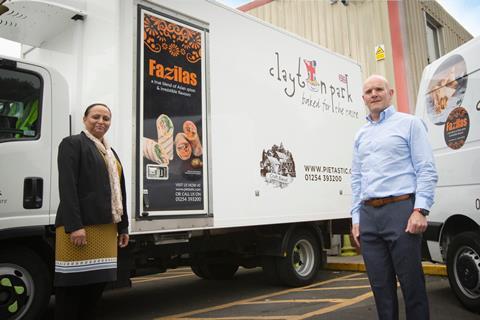 Lancashire-based Clayton Park Bakery has teamed up with ethnic food supplier Fazila Foods.
The companies plan to share resources and expand their customer reach across the north west.
They are set to develop a range of Asian street food products, such as spicy samosas, onion bhajis, fresh wraps and curries, to fill what they identify as a gap in the convenience foods market to appeal to the UK's multicultural society and demand for ethnic foods.
Clayton Park Bakery supplies pies and baked goods to Liverpool Football Club and Spar retailers across the north of England.
"We are very excited about bringing Fazila's authentic range into our product portfolio. I am sure we can provide some unique recipes that will help both businesses to develop van sales and strengthen our businesses in the market," said Barry Thomas, founder and managing director of Clayton Park.
Based in Bolton, Fazila Foods was founded by home cook-turned-entrepreneur Fazila Malek. She began using traditional Asian recipes to produce a range of handmade ready meals with fresh ingredients. Within two years of trading, the business had to move production from a home kitchen to a 6000 sq ft manufacturing facility. By 2020, the business had to relocate again to a 15,580 sq ft facility.
Fazila Foods will join Clayton Park Bakery in the family of James Hall & Co, one of Lancashire's largest employers with over 3,000 staff. James Hall & Co are the primary distributor to Spar stores in the north of England.
The ethnic food supplier is now available in Spar outlets around the north of England, but the latest development brings with it the potential to expand distribution even further as Spar operates around 2,600 stores across the UK.
"We're looking forward to a positive future working with Clayton Park Bakery and James Hall & Co. With these great businesses, we're expecting to strengthen a secure and successful future for our staff and customers. The partnership of Fazila Foods and Clayton Park Bakery is a true meeting of east and west, and this is reflected in the products we are offering," added Malek.