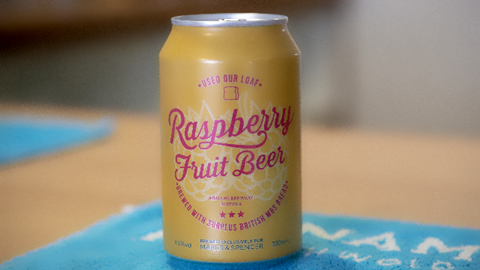 Marks & Spencer has teamed up with Adnams brewery to sell a range of beers made from discarded bread crusts.
Adnams is using the crusted ends of sliced sandwich loaves from Marks & Spencer supplier Greencore to make beer. With up to 44% of bread going to waste in the UK, according to research by Tesco, retailers have been exploring new ways to cut waste generated by stores and their supply chain.
Producing the beers under the brand name Used Our Loaf, Adnams has used surplus bread to replace some of the malted barley traditionally used in brewing. Flavours Triple Hop Southwold pale ale, Earl Grey pale ale and raspberry fruit beer are available in selected Marks & Spencer stores and online.

Making beer from bread isn't new; records of brewers and bakers working collaboratively stretch back over 7,000 years, with techniques being honed everywhere from ancient Egypt to Belgium. Beer can be made from the same raw materials used in baking, including barley, wheat and rye.
To create the Used Our Loaf brew, more than 700kg of surplus bread is pulped into breadcrumbs, them mashed with three times as much malted barley. Hot water is added to the mixture of bread and barley, then steeped slowly to release fermentable sugars. All the leftover grains, bread and hops are reused as animal feed.
If the drinks prove popular with consumers, the process will be rolled out across a greater range of ales.
The past few years have seen a new wave of beers produced using surplus bread. These include Jamie Oliver-endorsed start-up Toast, which supplies ales made from waste breadtoTesco and Waitrose, and worked with sandwich supplier Real Wrap Company last year.
Last month, a project between Jaw Brew and bakery Aulds was set up by the Glasgow Chamber of Commerce and Zero Waste Scotland. And, in another initiative, 10 bakeries pledged to reduce food waste as part of the Real Bread Campaign's No Loaf Lost commitment.
According to a report from waste reduction charity WRAP, 24 million slices of bread are thrown away every day in the UK. So much is left over that food banks and feeding programs can't cope with the excess. Therefore, business models that use leftover bread have the potential to significantly reduce food waste.
Chiller cabinet sandwiches don't use the end-to-end crusts which are a natural by-product of baking, nor any part of the loaf that isn't uniform. Retailers have maintained this is because consumers won't eat sandwiches comprised of crust.
For the most part, wasted bread ends up in landfill, although firms such as Greencore divert wasted bread to be reused as animal feed.