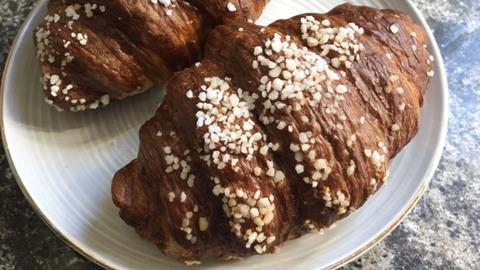 Marks & Spencer (M&S) has launched a croissant and pretzel hybrid – the 'Cretzel'.
The 85g Cretzel combines the chewy bite of a pretzel with the buttery, flaky pastry of a croissant, said the retailer.
It features the traditional lye coating of a pretzel and is finished with sea salt.
"We are continually challenging ourselves to invent the next big thing in bakery. Inspired by our customers' love of the sweet and salty flavour combination (we see in the popularity of our sweet and salty popcorn), we bring them the Cretzel!" said M&S bakery product developer Kirsty Rowley.
"The Cretzel combines those contrasting flavours and is really versatile, great on its own, with a coffee at breakfast or delicious with a filling for lunch.
"We know our customers love a hybrid – we have had everything from a Chouxnut to a Cruffin and, most recently, the Yumnut. We think the Cretzel will be a big hit with our customers."
The oven-baked and pre-bagged Cretzel is available on the in-store bakery counter now for an rrp of £1 each.
M&S rolled out the 'Yumnut' in March, a cross between a doughnut and a yum yum.