Fusing random bits together didn't result in an aesthetically pleasing creation for Victor Frankenstein, but it is proving a hit for bakers.
Arguably the most famous iteration of this trend is pastry chef Dominque Ansel's cronut – a croissant/doughnut hybrid introduced to the market in 2013. Resembling a ring doughnut, it is made from croissant-like dough filled with a flavoured cream and topped with icing.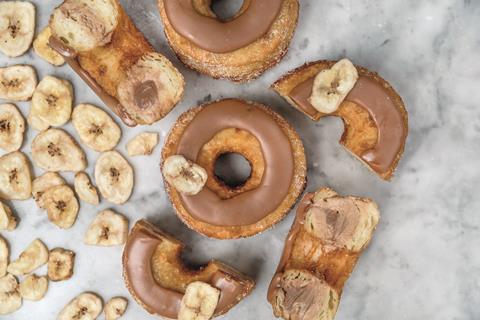 Since then, bakers and manufacturers have been whipping up their own combinations, which aim to offer the best of both worlds.
"From cruffins to bagnuts, townies to duffins, hybrid bakery products seemed like a Frankenstein fad when they first arrived on the bakery scene, but consumers have embraced them, particularly with more unusual inventions appearing on the market," says Jacqui Passmore, marketing manager UK and Ireland at Dawn Foods.
A cruffin, for example, is a cross between a croissant and a muffin. A cretzel, as introduced by M&S earlier this year, is a croissant/pretzel hybrid, while a macaringue combines macaron and meringue. If things weren't complicated enough, there are at least two versions of a brookie available to UK consumers – a brownie and cookie blend from Bells of Lazonby, as well as a brioche bun and cookie fusion from Roberts Bakery.
So, what's next in the world of franken-bakes? And what does the development process involve?
First off, get rid of any preconceptions about what a certain bakery product should be like.
"You have to break the mould of convention. There are no hard and fast rules," believes Annabel Lui, co-founder of London bakery Cutter & Squidge, famous for its cross between a cake and a cookie, dubbed biskies.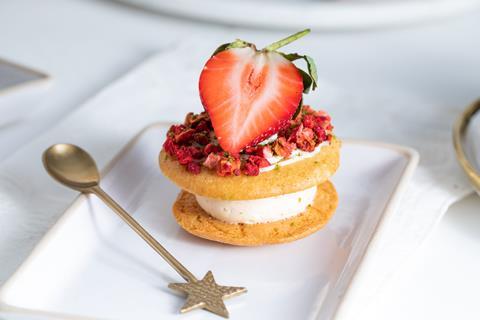 Alison Ordonez, head of innovation at Roberts Bakery, believes hybrids have gained a following as consumers are looking for familiar products but with a twist.
Start with visuals then play around with names and ideas of which products would be paired best, she says. For example, a Yompet could be a Yorkshire pudding/crumpet hybrid.
It was this type of thinking that helped her develop Roberts' latest snacking creation, the Pangel.
"Write down the key features in the two products you want to replicate in a fusion. Then get baking and just give it a try – failures often help fuel the next wave of ideas. Some things just seem to work, such as our Pangel – pancake with a bagel – which we improved by adding a protein claim to strengthen the new product positioning," Ordonez continues.
Hybrids also offer a way to reinvent classic favours, taking the formats and taste of an original product, but baking it in a different way or mixing different types of dough or flavours, Passmore adds.
You have to break the mould of convention. There are no hard and fast rules
In order to know how successful a new hybrid bake is, bakers and suppliers should offer their creations to consumers in small batches to get feedback, Lui advises.
"Taste and quality determine whether hybrid bakery items succeed or fail. We maintained the same biskie – cake, cookie and biscuit – recipe for seven years. The best products will always stand the test of time," she says, noting that the bakery's best-selling product is its Baby Biskie boxes, a smaller, bite-size version of the original.
"Overlaying other trends such as using quirky ingredients, adding colour to the dough or paste and playing around with sweet and savoury are all ways of improving hybrid product ideas which may not work first time around," adds Ordonez.
Roberts repurposed some of its misshapen white loaves into a ferment and added it to the dough for its Ultimate Hot Cross Bun for Easter 2020. This can also be where ideas for hybrid products evolve, she suggests.
However, there are technical issues to consider when mixing ingredients to create on-trend hybrid bakes.
"When two different consistencies are combined it is important to consider the processing and application requirements for the individual product and adapting them accordingly," says Robin Loud, application chef at Dawn Foods.
One example is Dawn Foods recipe for cheesecake brownies which features cheesecake batter swirled into a brownie mixture. It is important to pay attention to the water level and ensure the product is baked long enough, Loud points out. If not, the finished product will be wet and underbaked.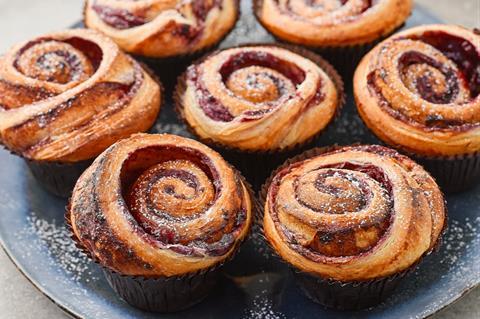 But be warned, not all products can be successfully fused. Sometimes things just don't gel, or the textures cannot be differentiated, notes Ordonez.
"Croissants are hard to replicate when you start to combine it into other shapes which do not allow the laminations to expand," she adds.
Roberts faced one challenge with its Brookie, a brioche and cookie creation as it was difficult to understand how to keep the cookie crisp texture against the soft brioche bun, while appreciating how it might change over the product's shelf life. Food safety is also paramount and it's useful to look at different baking or heat penetration mediums, she adds.
While there are technical considerations, as far as imagination there's no limit to what the future of hybrid creation could hold. Unlike Frankenstein's monster, hybrid bakes never looked so good.