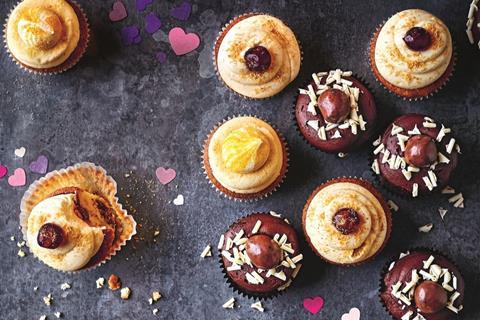 Marks & Spencer (M&S) has whipped up a cross between a biscuit and a cake – the Biscake.
Its new bakery fusion consists of a biscuit base and cupcake top. It comes in three variants – Choc Chip off the Old Block, Cherry Cake-well and Lemon Meringue-a-tang.
This isn't the first time M&S has tapped into the hybrid bakery trend. The retailer's new creation follows the recent launch of its yumnut, a cross between a yum yum and a doughnut – which was one of its bestselling bakery launches in recent years.
Its Biscakes are available for an rsp of £2.50 for a pack of two. The full range comprises:
Lemon Meringue-a-tang has a biscuit base with lemon sponge, lemon curd and lemon buttercream. It is hand finished with meringue
Choc Chip off the Old Block features a chocolate chip cookie base and rich chocolate sponge, topped with chocolate buttercream and M&S' treat bag Milk Chocolate Cookie Dough Bites
Cherry Cake-well is a reimagined version of the classic Bakewell tart, with a biscuit base, almond sponge, raspberry jam, buttercream and a topping of glace cherry.
"It's the age-old question. Cake or biccy with your cup of tea? The new and exclusive fusion to M&S, the Biscake, takes the stress of having to decide as you can now enjoy both together. The three delicious flavours are the ultimate treat – with the perfect balance of crumbly biscuit base and fluffy, sweet cupcake top," said Natalie Tate, product developer for cakes at M&S.