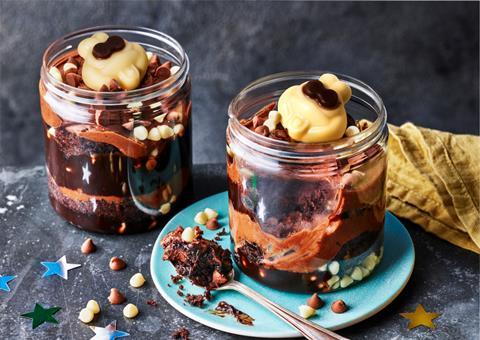 M&S is expanding its iconic Colin the Caterpillar range with a cake jar format.
The jars, which also come in raspberry ripple and trillionaire's variants, are single serving treats which can be consumed on the go, at picnics and other treat occasions. They have an rsp of £4.
The trio comprises:
Colin the Caterpillar Cake Jar (178g) – this treat features a chocolate sponge, Belgian chocolate sauce and chocolate ganache as well as milk and white chocolate chips with a Colin chocolate face on top
Raspberry Ripple Cake Jar (158g) – tapping into nostalgic flavours, this cake jar has layers of madeira sponge, raspberry jam, vanilla buttercream and freeze-dried raspberry pieces
Trillionaire's Cake Jar (169g) – taking things a few steps further than the classic millionaire's flavour combination, this jar features layers of madeira sponge with salted caramel sauce, chocolate ganache, milk chocolate shortcake balls and fudge pieces.
"These cake jars are absolutely delicious and are perfect for picnics, lunches on the go – or pretty much whenever you need a sweet fix," said Natalie Tate, lead product developer for M&S cakes. "Gone are the days of picking a cake to suit all tastes – you can now mix and match to suit everyone."
M&S has rolled out several new Colin the Caterpillar formats since he celebrated his 30th birthday last year. Most recently these include button biscuits and cupcakes.