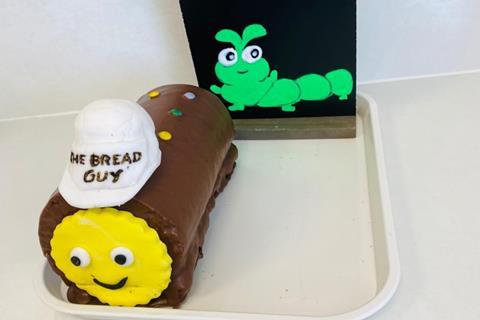 Caterpillars, of the cake variety, have been making waves on the UK bakery scene and it looks like things might get even more crowded as bakeries unveil their take on the celebration cake.
It comes after Marks & Spencer announced it was taking legal action over similarities between its Colin the Caterpillar cake and Aldi's Cuthbert the Caterpillar. M&S lodged an intellectual property claim with the High Court, believing its competitor's product represented a trademark infringement.
The publicity surrounding the case has prompted bakers to unveil their own insect-inspired creations with proceeds from some going to a selection of charitable causes.
From vegan options to butterfly creations, we round up some of the hot picks below: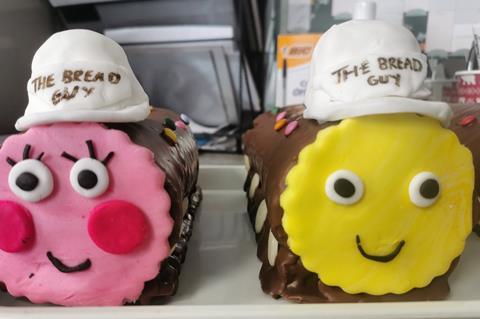 The Bread Guy
This Aberdeen-based bakery has whipped up two chocolate-covered sponge caterpillars with fondant faces.
Cary, a play on MD Gary McAllister's name, and Cally cost £6 each and all proceeds will be donated to the Torry Community Fund. According to director Donna McAllister, the bakery sold 20 cakes on the first day alone, a figure which has since risen to more than 35 as it pledged to show its support for Cuthbert.
"It's been great to see the response from all our customers after the year we have all had," director Donna McAllister told British Baker. "I think we all needed a bit of lighthearted banter."
McAllister said the bakery's initial Facebook posting had reached over 96k Facebook users, a feat she described as "amazing". "Our Cary and Cally have proved very popular," she added.

Iceland
Iceland has taken the caterpillar one step further as it gears up to launch Bonny the Butterfly Cakes.
The sponge cakes are decorated with icing and a sugary butterfly slice with proceeds from each sale will be donated to British charity Butterfly Conservation. The move comes after TV presenter Chris Packham called for supermarkets to move away from caterpillar cakes and focus on butterflies and moths.
The frozen food specialist had previously removed its caterpillar cake from sale as part of its no palm oil pledge on own label lines.
"[We] had no plans to re-enter the caterpillar category, even when the #FreeCuthbert movement captured the nation's attention," Richard Walker, Iceland Foods managing director, said. "However, when Chris called on supermarkets to use their cakes to raise awareness of the biodiversity crisis facing our planet, we had to get involved."
Packham added: "It's fantastic that Iceland have seized this opportunity to come to the assistance of Britain's dwindling butterfly and moth populations, and of course their caterpillars."
Just Love Food Company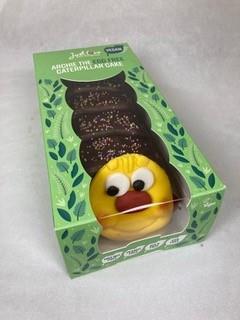 Just Love Food company is set to debut a vegan caterpillar cake named Archie.
Available from 12 May from The Vegan Kind Supermarket (rsp: £6.99), the chocolate roll is filled and covered with a chocolate flavoured frosting and decorated with sugar paste and sprinkles. The cake is named after a child who inspired the charity Archie's Allergies.
"Creating a vegan caterpillar cake has been on our agenda for a while," said Danika Woods, Just Love Food Company's marketing manager. "As a company, we have a mission to be the most inclusive cake brand and the launch of Archie totally aligns with that. More than a vegan cake, Archie is egg-free, milk-free, nut-free and peanut-free with no 'may contain' claims so from an allergy perspective, we really wanted to bring out a version of the much-loved classic cake that could be enjoyed by those with the above allergies, as well as vegans."