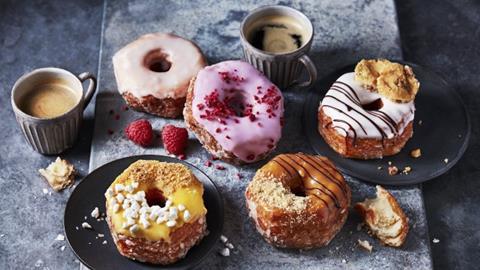 Marks & Spencer is looking to give cronut creator Dominique Ansel a run for his money with its latest doughnut hybrid – the yumnut.
A cross between a doughnut and a yum yum, the yumnuts are made with the retailer's butter-enriched yum yum recipe which includes a minimum 18-hour dough resting time coupled with 48 laminations to create a 'light, open texture'. The dough is then deep-fried and covered in a sugar glaze before being decorated with one of six toppings for sale in M&S in-store bakeries.
There are six flavours of yumnuts. They are:
The Plain Jane with 'sweet and buttery' vanilla pastry
Raspberry Royal has 'sweet, sharp and fruity' fondant and freeze-dried raspberries
Billionaires with salted caramel sauce, biscuit crumb and dark chocolate
Simply the Zest has a lemon glaze topped with biscuit crumb and rustic meringue pieces
Milk & Cookies features a milky vanilla glaze with mini-cookies and a chocolate drizzle
Double Chocolate is topped with a milk chocolate fondant and dipped into milk and white chocolate shards
The Plain Jane is priced at £1 while the rest are £1.15 each. They're available in M&S in-store bakeries now, with the exception of Double Chocolate which rolls out on 24 March.
"M&S is renowned for its delicious selection of doughnuts and yum yums," said Kirsty Rowley, M&S bakery product developer. "The craze for gourmet, Instagrammable pastries is huge and the new M&S Yumnuts bring this culinary revolution to everyone and are great value."